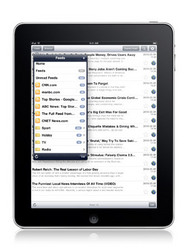 Stay up to date with PRO RSS FeedReader!
(PRWEB) September 28, 2010
Some PRO RSS FeedReader features
1. Feeds are stored on a local database to view feeds offline.
2. An internal browser will cover browsing to the internet.
3. Organizing feeds is simple and fast by folders and subfolders.
4. An advanced automated updating system works in the background to continue reading feeds.
5. Updating can also be done manually.
6. Searching feeds inside the program is easy and fast.
7. Feeds can be starred to find your favorite feeds quickly.
More features are covered on the website: http://www.prorssfeedreader.com
PRO RSS FeedReader is available on the App Store.
Product information: http://www.prorssfeedreader.com
Contact information:
HRC DIGITAL B.V.
Albatrosstraat 6
7821 AM Emmen
The Netherlands
Phone: +31 591 760007
Contact: http://support.prorssfeedreader.com
Contact person: Raymond Girbes
HRC and HRC DIGITAL are trademarks of HRC DIGITAL B.V.
Apple, the Apple logo, iPhone, iPod touch, and iTunes are trademarks of Apple Inc., registered in the U.S. and other countries. iPad is a trademark of Apple Inc. App Store is a service mark of Apple Inc.