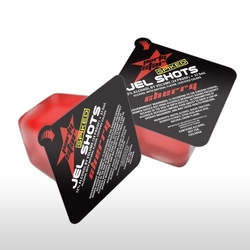 Metropolis Industries is pleased at the progress made in a very short time," said Miles J. Lakin, President and CEO. "Party Star Jel Shots has gone from a kitchen concoction to being fully federally approved and selling in five states in nine months."
Farmington, MI (PRWEB) September 28, 2010
Metropolis Industries LLC, creators of Party Star Jel Shots, announces the launch of a unique line of peel-squeeze-and-eat jel shots.
What makes Party Star Jel Shots unique? Easy.
No one else can claim the following combination in a jel shot:

12% alcohol by volume (24 proof)
No refrigeration needed (approx. 1 year shelf life)
Plant-based jel (no animal bi-products)
All-natural color and flavoring agents
Ready-to-consume, convenient
Seven great flavors with more coming
Made in our Party Star factory, not a homebrew
Party Star Jel Shots is a hip, colorful, fun way to get your next party started!
Over the past year, Metropolis Industries developers have worked tirelessly to produce the highest quality peel-squeeze-and-eat alcohol-spiked jel shot. Metropolis Industries used only the finest all-natural jel base, coloring and flavoring agents from Givaudan, a highly respected company in the food and beverage industry. The bottom line is that Party Star Jel Shots isn't your daddy's homebrew, it's a terrific, tasty, high-quality product.
And we're not the only ones who think so. Out of the gate, Party Star Jel Shots has made a lot of noise no matter where it was unveiled. Since a March debut at the Las Vegas Bar and Nightclub Show, Party Star Jel Shots are now launched and for sale in:

Furthermore, Party Star is licensed to sell in Nevada and Massachusetts. Metropolis Industries is in pre-launch negotiations in:

Connecticut
New York
New Jersey
Oklahoma
California
Metropolis Industries is taking Party Star Jel Shots globally too. Party Star is approved for sale in Japan and Metropolis Industries is in negotiations with distributors in:

South Korea
Taiwan
Mexico
Argentina
Canada
Is Europe interested? Yes, Metropolis Industries is negotiating to take Party Star there and to the Caribbean too.
From a very humble trial-and-error beginning, Metropolis Industries has created Party Star Jel Shots, an alcohol-spiked, peel-squeeze-and-eat party starter like no other.
Are you interested? For more information visit http://www.partystarshots.com or e-mail info@partystarshots.com. Also check out Party Star Jel Shots on Facebook, MySpace and Twitter too.
###