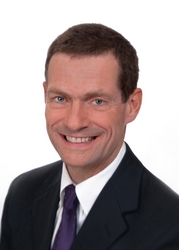 Today's students who will be tomorrow's leaders in the work force need to know how to think critically, to work in teams and to know there is great value in being accountable to their peers.
Cincinnati, OH (Vocus) September 27, 2010
KnowledgeWorks has named veteran telecommunications executive Brian Ross president of the Cincinnati-based national education reform organization.
Ross, 52 and a KnowledgeWorks board member since 2007, assumes the title of president from founding chief executive officer Chad P. Wick, who remains CEO. Ross will manage the day-to-day operations of KnowledgeWorks and help the non-profit organization rapidly expand its portfolio of innovative high school approaches nationwide.
"Not many people I talk to are satisfied with the current state of the U.S. education system," said Ross, who began his career as an economics teacher. "And when you look at recent statistics that show 30 percent of students in America's public schools fail to finish school with a diploma and we continue to fall behind globally in math and science -- that's just not acceptable."
Ross, who spent 13 years at Cincinnati Bell – including four years as chief financial officer and two years as chief operating officer -- said he is excited to help transform KnowledgeWorks into a social enterprise, working to improve education by growing the number of innovative high schools developed and implemented by the organization.
"Why are we still using the 'Little Red Schoolhouse' model to deliver education to 21st century learners?" Ross said. "Today's students who will be tomorrow's leaders in the work force need to know how to think critically, to work in teams and to know there is great value in being accountable to their peers."
Board Chairman Joseph P. Tomain, Dean Emeritus and the Wilbert and Helen Ziegler Professor of Law at the University of Cincinnati, said the board is enthusiastic about Ross and his long-term leadership of the organization.
"Brian brings a tremendous amount of business acumen to KnowledgeWorks, and he has a keen understanding of how our organization can function as a social enterprise, creating the kind of education environments that can prepare our students for the future," Tomain said.
Wick said Ross' experience leading a national telecommunications company will help KnowledgeWorks create the kind of 21st -century learning that students need to be successful in an increasingly complex, global economy.
"We are pleased that an executive of Brian's caliber is on board to help us apply some of the best thinking about the future of education to real results on the ground – in this case – the aggressive expansion of our portfolio of innovative public high school approaches that reflect next-generation learning."
Ross is a native of Cincinnati, and earned a bachelor's degree in economics and mathematics & statistics from Miami University. He earned a master's degree in statistics from the University of California.
KnowledgeWorks operates more than 80 high schools in 21 states through its New Tech Network and EdWorks subsidiaries. It also includes two other subsidiaries, Strive and Ohio Education Matters. Strive offers a cradle to career strategy for bringing all of a community's resources to bear on solving its most pressing education issues. Ohio Education Matters helps transform education in Ohio by conducting research, advocacy, engagement and policy development that inspires others to make the system changes needed today to prepare Ohio's children for the future.
KnowledgeWorks' student-focused approach to learning evolved from its work in Ohio, where it managed one of the nation's most ambitious high school reform efforts with the Ohio High School Transformation Initiative and the development of Early College High Schools. The effort had a positive impact on more than 50,000 students and trained more than 2,000 teachers in Ohio's most challenging school districts. School structure, teacher recruitment and support, curriculum, assessment, community involvement -- all were built around students.
The EdWorks team has launched more than 90 high schools and has more than 40 start-up schools in process, as well as turnaround schools in Detroit, Baltimore, Tennessee and Washington.
In 2009, KnowledgeWorks acquired Napa, California-based New Tech Network, which operates schools marked by project-based learning in classrooms with 1:1 computing environments. Unlike students in traditional high schools, where most teachers lecture and use textbooks as a teaching approach, teachers in New Tech high schools design rigorous, real-world projects tied to state and district standards and customize them to their location and the interests of students.
KnowledgeWorks has expanded New Tech Network high schools by more than 50 percent over the past year to 62 public high schools in 14 states, making New Tech one of the fastest-growing high school transformation models in the United States.
KnowledgeWorks is bringing the future of learning to America's high schools and creating widespread, lasting change in the communities and states we serve. Our portfolio of high school approaches includes New Tech Network high schools, EdWorks high school redesign, Science, Technology, Engineering and Math (STEM) and Early College High Schools.
Contact Byron McCauley
(513) 929-1310
mccauleyb(at)knowledgeworks(dot)org
# # #