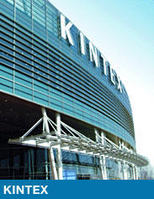 South Korea's leading exhibition-convention center KINTEX (www.kintex.com) is currently building up the Second KINTEX Exhibition Center
(PRWEB) September 28, 2010
South Korea's leading exhibition-convention center KINTEX (CEO Han, Joon-Woo, http://www.kintex.com) is currently building up the Second KINTEX Exhibition Center in Daehwa-dong, Ilsanseo-gu, Goyang-si, Gyeonggi Province, a project started in March 2009.
The budget for the project stands at a total of 35.91 billion won, including 34.28 billion won for the actual construction of the center. The construction firms were selected in December last year, design work was wrapped up in June this year and the construction of the main structure started in July. The entire project is estimated to be completed by September 2011, creating an additional exhibition space of 54,624¡, which is close to the first center (exhibition area of 53,975¡).
The envisioned second exhibition center will increase the exhibition area to 108,599¡, catapulting KINTEX to the fourth in Asia and 35th in world exhibition industry.
Given that KINTEX faced some difficulties in hosting international exhibitions due to the limited exhibition space, the second center will provide a key momentum to attract world-renowned fairs such as ITU Telecom World and ITMA (International Exhibition of Textile Machinery).
Meanwhile, the second KINTEX exhibition center will take full advantage of new and renewable energy in a way that nurtures environment-friendly structures. Of the total budget of 359.1 billion won, 9 billion won will be used for securing new and renewable energy facilities.
According to the New & Renewable Energy Center, a research unit of the Korea Energy Management Corporation (KEMCO), new and renewable energy is either generated from existing fossil fuels or converted from naturally occurring renewable sources of energy such as sunlight, tides, geothermal heat, rainfalls, biomass.
To take the lead in renewable energy initiatives, KINTEX designed itself with 'geothermal heating pumps' which cool and heats by using the geothermal temperature, 'rooftops siponic rainwater' that alternates rainwater into water for landscape trees and heat storage. Also, a 'solar collector plate' will be adopted to change solar heat into electric power.
KINTEX will also install a 'high-efficient and low-noise transformers', 'high efficiency reflectors for fluorescent lamps' and' induction lamps'.
In addition, KINTEX has plans for energy-enhancing facilities such as 'air conveying energy saving system' which uses the gap of water temperature, 'exhaust heat recovering system', and 'automatic boiler blow-down system' in order to maximize the energy efficiency.
The new and renewable energy adoption for the second KINTEX exhibition center is expected to cut energy cost of as much as 1 billion won each year -- 200 million won in efficient heating energy operations, 500 million won in green and low energy systems and 270 million won in lower electricity use.
The second exhibition center project is also forecast to have a huge impact on the local economy. In Gyeonggi Province alone, the construction project will increase production by 453.2 billion won, generate new wages of 73.7 billion won, and create jobs for 2,592 people. Nationwide, the estimated figures are 775.4 billion won in new production inducement, 126.6 billion won in wage, and new jobs for as many as 4,608 people.
On top of that, KINTEX places its hope on the various spillover effects following the completion of the second exhibition center. In 2015, the fifth year of operation of the second center, KINTEX expects to see an increase of 3.84 million visitors a year. The project is now poised to help generate 1.1593 trillion won in increased production, 256.3 billion won in income growth, 48.4 billion won in new tax revenues and 24,145 new jobs over the time period, having a considerable impact on the local economy.
Moreover, when the supporting complex and Hallyu World around KINTEX are built up, the areas surrounding KINTEX will be developed into a cultural cluster with various entertainment functions. The areas will house Hallyu World, two commercial facilities, China Town and an aquarium, a combination that will lure in more than 10 million visitors a year after completion of the second exhibition center.
"With the construction of the second exhibition center, we will accelerate moves to host major international exhibitions and conventions," said Han Joon-Woo, CEO of KINTEX. "Cutting-edge facilities and green energy systems will be incorporated into the new center so that KINTEX becomes a frontrunner in the international exhibition and convention market."
KINTEX is Korea's largest exhibition and convention center, which opened on April 29, 2005 jointly invested by Gyeonggi province, Goyang City and KOTRA, with the aims to induce and develop world-class exhibitions and conventions and achieve globalization.
It successfully held Korea's largest exhibitions – including the Seoul Motor Show, Korea Electrics Show, Korea Machinery Fair, SIMTOS and Seoul Food & Food Tech – within two years of opening and recorded 15 million in the number of visitors (accumulated number), emerging as a venue for trade marketing for first-rate companies at home and abroad.
It held 58 exhibitions and 215 conventions in 2005, the first year of opening, and hosted 92 exhibitions and 365 conventions in 2006. It induced 89 exhibitions and 376 conventions in 2007 and 90 exhibitions and 398 conventions in 2008 experiencing a continuous growth. It went through a bit of decrease by holding 85 exhibitions and 333 conventions in 2009, and it was due to the fact that continuous economic recession hit the nation in 2009 and the spreading H1N1 virus resulted in the cancellation or delay of various events.
It takes about five years or longer for ordinary exhibition centers to record 50% in operation rate after opening, but KINTEX posted 53% in operation rate, actual saturation status, in 2 years and 8 months achieving a surprising growth rate.
With the construction of the 2nd phase, KINTEX will be able to provides more than 100,000 ¡ of exhibition area, which enables KINTEX to emerge as a global exhibition center and induce world-class international exhibitions, such as ITU Telecom World and ITMA. According to results of research, the establishment of the second exhibition hall is expected to lead to 775.4 billion won in production inducement effects, plus 4608 jobs and 126.6 billion won in wage inducement effects. In 2015, the fifth year of opening of the second exhibition hall, it is expected to post 3.84 million in the number of increased visitors per annum, 1.1593 trillion won in production inducement effects, 256.3 billion won in revenues, 48.4 billion won in tax income and 24,145 jobs – thus making a great impact on the local economy.
June Han
Senior Manager, Customer Service & Public Relations
KINTEX(Korea Int'l Exhibition Center)
Tel : 82 31 810 8122
Email: eventjun(at)kintex(dot)com / http://www.kintex.com
###