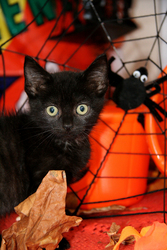 the lost and starving dogs and cats of London so that they should have sanctuary from the cold inhumanity they are being dealt outside
(PRWeb UK) September 28, 2010
As a chance to raise awareness for the amount of black cats struggling to find new homes, the rescue centre in Kensal Green is opening its doors for an afternoon of fun, with fancy dress, ghoulish games, tasty tarts and cakes and witches tours of the cattery and kitten cabins.
When: Sunday October 31st
Where: The Mayhew Animal Home, Trenmar Gardens, Kensal Green NW10 6BJ
Time: 1pm – 4pm
Entry: £1.50 adults, £1.00 children
Mayhew events co-ordinator, Fran Llewellin said: "We are really looking forward to welcoming lots of children to the Home this Halloween for a fun packed afternoon of games and activities, plus the chance to introduce them to our homeless cats and kittens. There are so many black cats at our rescue centre, as sadly they often get overlooked and the more uniquely-coloured felines get adopted quicker. Of course we hope that any and all of our animals find new homes quickly, but if we can draw attention to some of our lucky black cats then all the better!"
Halloween is a great opportunity for The Mayhew to highlight this issue but of course the Home still welcomes adoption enquiries for any of their residents; dog, cat, black, spotty, little, large, tortoiseshell, ginger or calico!
For more information contact Fran on 020 8968 2445 or events(at)mayhewanimalhome(dot)org
For more photographs or information contact Sarah Dickinson 020 8968 2443 sarah(at)mayhewanimalhome(dot)org
For the Editor
The Mayhew Animal Home was established in 1886 for the benefit of "the lost and starving dogs and cats of London so that they should have sanctuary from the cold inhumanity they are being dealt outside". Today, The Mayhew is one of the busiest animal sanctuaries in London, rescuing thousands of animals from cruelty and neglect each year. We provide shelter and care for cats, dogs, rabbits and when the need arises, for a wide variety of other animals.
The Mayhew Animal Home strives to tackle the companion animal welfare crisis from every possible angle. The organisation is pro-active, innovative and continually works to assist animals and their carers. The Mayhew offers a wide variety of community services providing advice, care and assistance to animals and their carers whatever their circumstances.
###