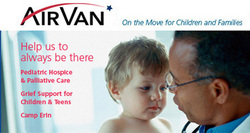 We are so grateful to Air Van Lines, and the Galvagno family, for their generous gift
Seattle, WA (Vocus) September 28, 2010
Air Van Moving, a Seattle moving company based out of the Northwestern region of the United States, announced it has donated $10,000 in support of the Providence Hospice of Seattle and Safe Crossings Foundation's annual luncheon.
The foundation's 11th annual luncheon will be held on Sept. 30, 2010, at the Washington State Convention Center and will raise money for pediatric hospice and family support services. The luncheon themed, 'Making a Difference in a Child's Life', is the largest single event supporting both Providence Hospice of Seattle and Safe Crossings Foundations. Both foundations bring care and comfort to families with terminally ill children. Providence Hospice of Seattle offers a service called Stepping Stones that provides in-home care for terminally ill children. Safe Crossings Foundation provides emotional support and grief counseling to families in the Stepping Stones program.
"We are so grateful to Air Van Lines, and the Galvagno family, for their generous gift," said Gary Crum, director of Providence Hospice Foundation. "It will help the kids and families we serve deal with the difficulties of facing a life-limiting illness and help them to work through any challenging times that they may face."
Air Van, as a Seattle mover, encourages the local Seattle community to support these foundations by donating to the 2010 pediatric luncheon by visiting this website: http://www2.providence.org/kingcounty/facilities/providence-hospice-of-seattle/foundation/Pages/donate.aspx
"As parents, leaders, and citizens in our community, we must work with and support organizations that will find treatments and save lives. Unfortunately, not everyone will win their fight. I want to personally invite you to help us reach our goals so that we may assist even more children who need these services," said Marc Galvagno, President and Chief Development Officer, Air Van.
About Air Van Moving
For over 50 years Air Van Moving has continually proven itself as a leader in the moving and storage industry. Air Van Moving is a Seattle moving company based out of the Northwestern region of the United States with locations in Washington, Oregon, Idaho and Alaska. Our global network partner North American Van Lines Inc., allows our reach to extend across the country and around the world. For families and businesses alike, if you're moving across the street or across the ocean there's no job too big or too small for our team of highly trained moving professionals. Information on the company can be found on the Internet at http://www.airvanmoving.com
###