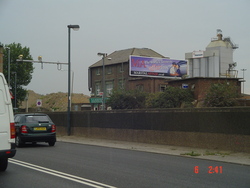 The campaign has had an amazing effect and we have seen a substantial increase in members since its launch. We feel the accuracy of our tag line is acceptable as we are certainly deemed as the people's favourite affairline.
London, UK (PRWeb UK) September 27, 2010
Adult dating site MaritalAffair.co.uk has taken a bold new approach to its advertising. Its most recent national billboard campaign is set to cause quite a stir in the aviation industry. The ad features a captain and stewardess smooching passionately by a plane, with the tagline which reads, "MA-The World's Favourite AFFairline."
As we are all aware, this is remarkably close to the clean cut British Airways-The world's favourite airline. When called for comment, BA said "We haven't had any comments or responses about the billboards yet." "Yet" is quite likely the word we should be focusing on here.
A spokesperson from Maritalaffair.co.uk said, "The campaign has had an amazing effect and we have seen a substantial increase in members since its launch. We feel the accuracy of our tag line is acceptable as we are certainly deemed as the people's favourite affairline."
# # #