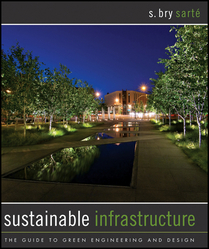 Hoboken, NJ (PRWEB) September 27, 2010
John Wiley & Sons - Sustainable, or "Green," building practices, coupled with emerging technologies, are transforming the design and construction industries. As more factors, perspectives, and metrics are incorporated into the planning and building process, the roles of engineers and designers are increasingly being fused together. Designers are being asked to account for and incorporate systems thinking, material flows, and environmental performance into their work; and engineers are being asked to apply their technical and infrastructural expertise earlier and more comprehensively as an integral part of the design process. John Wiley & Sons, a leading publisher for designers and engineers, is releasing SUSTAINABLE INFRASTRUCTURE: The Guide to Green Engineering and Design (John Wiley & Sons; $80.00; September 2010) to explain how engineers are working with other members of the design team to develop a unified strategy that produces the most effective and elegant green alternatives for the revitalization of urban infrastructure.
This new release covers the concepts, strategies, tools, practices, and approaches that lead to environmental improvement through design & engineering practices. In an effort to maximize the usability of dwindling resources such as land and water to help humanity strive to reconnect with the natural world, SUSTAINABLE INFRASTRUCTURE advocates a multidisciplinary team approach to design that is not only highly sustainable technologically, but also visually beautiful.
This forward-thinking guide:

Contains complete coverage of sustainable infrastructure strategies for watershed master-planning, integrated storm water management, reclaiming urban spaces, and green streets programs
Delivers information on how to account for and incorporate systems thinking, material flows, and environmental performance into projects
Demonstrates how natural spaces are assimilated into the built environment
Offers an international perspective with case studies from around the world
Provides guidance on the role creative thinking and collaborative team-building play in developing the complex solutions needed to affect sustainability
SUSTAINABLE INFRASTRUCTURE takes an in-depth view of the challenges involved in matching artistic impression with engineering principles in a sustainable development context. It is the first to recognize and articulate the design and engineering perspectives when approaching the development of a modern sustainable infrastructure. This book is an essential reference, for any professional incorporating sustainability into their design of urban infrastructure.
ABOUT THE AUTHOR:
S. Bry Sarté, PE, ASCE, LEED AP, founder of the Sherwood Institute and Sherwood Design Engineers, is a leading designer in green and sustainable engineering, and has made significant contributions to contemporary research involving global environmental issues affecting water supply, urban design, material science, and energy use. Bry has built an international reputation by providing engineering services and design solutions that reflect a deep commitment to executing well-planned, sustainable alternatives for communities worldwide.
SUSTAINABLE INFRASTRUCTURE
The Guide to Green Engineering and Design
Published by John Wiley & Sons, Inc.
Publication date: September 27, 2010
$80.00; Hardcover; 384 pages; ISBN: 978-0-470-45361-2
###