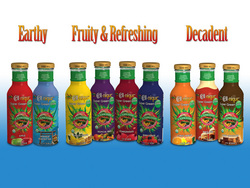 The priority of using authentic nutritional ingredients in manufacturing and simple wholesome goodness, has taken a back seat for many food companies who are deeming it just too expensive for their bottom lines
Weston, CT (Vocus) September 27, 2010
Cell-nique Super Green Drink is leading the charge on healthy and authentic ingredient labels, while educating consumers to become self-advocates for healthy lifestyles; including reading labels before purchasing.
The good news is that people of all ages are becoming more aware of "you are what you eat" and consciously concerned with ingredient labels. Cell-nique Super Green Drink is an organic meal-in-a-bottle loaded with 31 super foods and 7 grams of protein Cell-nique. When it comes to the ingredient list…what you see is what you get. Checking the amounts of sugar, sodium, calories, chemicals and trans-fats before purchasing is becoming more common for shoppers nationwide. Americans are waking up thanks to shows like "Dr Oz", "The Doctors" and "Oprah" along with the health education in public schools throughout the country.
If the body is a temple and needs to remain healthy and toxic-free, then allowing corporations to use cheap food with additives, stabilizers and ingredients for the sake of profit cannot continue. Artificial taste is a gimmick to hide chemicals and ingredients that do not belong in a healthy diet and gimmick that the body is not able to tolerate. Many of these ingredients can neither be pronounced, nor recognized by the digestive system, which is now being seen by an alarming rate of Obesity, Diabetes and Cancer.
America is a fast-paced nation that demands quick, efficient, cost effective solutions. Some companies want Americans to believe that one can survive on doughnuts & coffee for $1.99 or $1 happy value meals and $.99 big gulps. In haste, naivety, or lack of affordability, consumers have grown accustom to putting trust in the brands that are manufacturing the food along with the high budget glossy advertising. "The priority of using authentic nutritional ingredients in manufacturing and simple wholesome goodness, has taken a back seat for many food companies who are deeming it just too expensive for their bottom lines", says Donna Ratner, Certified Health Coach and Co-Founder of Cell-nique Super Green Drink Cell-nique.
The good news is that every day more people are realizing that the nutritionally-void food that is being eaten is the culprit behind the escalating diseases in our country. A good example of this is the expansion of supermarkets such as Whole Foods and many other chains that now have natural/organic sections within the store. This is a response to the growing consumer demand for healthier options. It may be considered stylish or trendy to be green, but it's a trend that is encompassing Baby Boomers to Millennium kids who are making a priority to become healthier individuals for the future and the planet. Moods, energy level, sleep patterns, focus, immune strength, bowel regulation, skin and allergies are just a partial list of how the body responds to the food that is being consumed.
Fast foods are a mainstay in society and a necessity for busy lifestyles. This is all the more reason for healthy grab n'go options.
"Reading ingredients and being aware of what's available to satiate and nourish a person on-the-go is a simple way to educate one's self to better health. The correlation of what goes in the mouth is directly related to the outcome of one's health and physical appearance. Ingredients should be simple real foods. If it cannot be pronounced, don't eat it, the body won't know what to do with it either" says Ms. Ratner Cell-nique.
For more information visit:
http://www.eatrightamerica.com
http://www.cell-nique.com
###