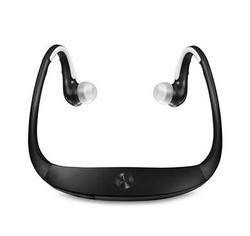 Libertyville, IL (PRWEB) September 27, 2010
Motorola, Inc., the world leader in Bluetooth® headsets, today announced S10-HD, the only Bluetooth® stereo headphones designed to keep your music moving with you. S10-HD provides rich, high-definition sound quality in a comfortable, sweat proof design. S10-HD will be available starting October 24 through Best Buy.
"Motorola created S10-HD to accommodate an active lifestyle – from working out to hanging out, it fits into anyone's routine," said Wayne White, corporate vice president, Companion Products, Motorola Mobility. "S10-HD not only provides superior high definition sound quality but the advanced design ensures the headset is dust and sweat proof."
Don't Sweat It
Put S10-HD to the test, the lightweight, sweat proof and water resistant design can keep up with you, from a rigorous work out to running errands. S10-HD uses advanced materials and a thoughtful design ensures the electronics stay dry. The S10-HD's speakers are recessed in their housing with a new ear cushion interface and hydrophobic acoustic mesh ensures the headset is sweat proof, while preserving audio quality. To reduce exposure to moisture, silicone seals protect electrical components, all buttons are co-molded and the micro-USB charging cover is molded to the headphones housing with a water-proof plug.
Music to Your Ears
Listen to your favorite tunes in a whole new way with S10-HD high definition audio. The advance acoustic design along with the digital tuning and enhanced bass provide amazingly rich audio. It even takes your phone calls by automatically pausing the music and resuming it when you hang up.
Building on Perfection
S10-HD is an update to S9-HD, the award-winning Bluetooth stereo headphones that redefined wireless music. The back housing is redesigned to optimize antenna performance outdoors and improved buttons help make controlling music and calls a breeze.
Availability
S10-HD Bluetooth® headset will be available in the U.S. beginning October 24 at Best Buy stores and online for $79.99. For more information regarding S10-HD, please click here.
For the latest Motorola product news and promotions, you can also find us on Facebook and follow us on Twitter.
The use of wireless devices and their accessories while driving may cause distraction. Discontinue use of the device if you can't concentrate on driving. Additionally, the use of wireless devices and their accessories may be prohibited or restricted in certain areas. Always obey the laws and regulations on the use of these products.
MOTOROLA and the Stylized M Logo are registered in the U.S. Patent & Trademark Office. The Bluetooth trademarks are owned by their proprietor and used under license. All other product or service names are the property of their respective owners. © 2010 Motorola Mobility, Inc. All rights reserved.
About Motorola
Motorola is known around the world for innovation in communications and is focused on advancing the way the world connects. From broadband communications infrastructure, enterprise mobility and public safety solutions to high-definition video and mobile devices, Motorola is leading the next wave of innovations that enable people, enterprises and governments to be more connected and more mobile. Motorola (NYSE: MOT) had sales of U.S. $22 billion in 2009. For more information, please visit http://www.motorola.com.
###