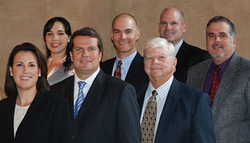 Our firm has over 130 combined years of experience managing financial planning portfolios of individual and corporate clients
Miami, FL (PRWEB) September 28, 2010
Jullie & Associates, P.A., a South Miami-based financial services firm, will conduct a series of free retirement planning workshops for all South Floridians. The workshops will focus on teaching attendees how to manage their retirement plans and help to provide a healthy retirement package. The workshop seminars are scheduled for October 5th to the 7th and the 19th to the 21st in Dadeland, Homestead and Miami Lakes. Additional seminar dates are November 16-18.
As Benjamin Franklin famously said, 'You may delay, but time does not,' may well have spoken of how most people approach retirement planning – good intentions to start later. Research and experience show that people who delay often times do not enjoy the full benefits of an experienced well thought-out financial plan. Jullie & Associates free workshops are designed to help people start thinking and actively plan for their retirements. Workshops are offered in October and November in three convenient locations in Miami-Dade County and are open to all people nearing or approaching retirement.
"Our firm has over 130 combined years of experience managing financial planning portfolios of individual and corporate clients," said David M. Jullie, Vice Principal, Jullie & Associates. "We're offering free planning services to guide attendees through the often-confusing Florida Retirement System and to help people better understand their options when approaching or nearing retirement."
Jullie & Associates' Florida Retirement System Specialist will be on-hand to help build plans including retirement funds, IRA, 401k, 403b, and lump-sum drop assets. Participants of the retirement planning advice seminars will receive their choice of two free gifts simply for attending.
For more information and to reserve a spot, please call (305) 667-1990 Extension 300 or visit http://www.successfulplan.com/new/successfulplan/ to register (from the main site, click on workshop on the left column menu.)
About Jullie & Associates, P.A.
Jullie & Associates, P.A. assists clients in developing an appropriate Investment Policy Statement based off their objectives and constraints and implementing, reviewing and amending said strategy as necessary. The organization takes pride in providing comprehensive Financial & Tax Services to families, individuals, and small businesses. Jullie & Associates has worked in the South Florida area since 1980, from the same location in South Miami, Florida.
Jullie & Associates, P.A. offers financial planning services through Transamerica Financial Advisors, Inc. (TFA) a Registered Investment Advisor. As a branch office of TFA; Jullie & Associates are not "Captive" agents, and have access to a wide array of products and services to help fulfill clients' needs. TFA is headquartered in St. Petersburg, Florida and is an AEGON company.
For more information, please visit http://www.successfulplan.com
Securities and investment advisory services offered through Transamerica Financial Advisors, Inc.(TFA) member FINRA & SIPC and registered investment advisor. Non-securities products and services are not offered through TFA. Jullie & Associates, P.A. is not affiliated with TFA. Neither TFA nor its representatives provide legal, tax or accounting advice. Persons who provide such advice, do so in a capacity other than as a registered representative of TFA.
LD38315-9/10
###