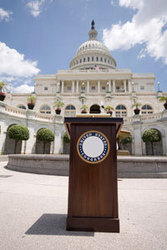 According to the FTC, if you help settle "tax debts owed to the government – you're covered by the new Rule."
Washington, DC (PRWEB) September 29, 2010
The FTC recently published its final rule amending TSR. The TSR is very broad in its coverage and, according to the FTC, now applies to tax resolution services. Under the amended TSR, starting on October 27, 2010, it will be "…illegal to charge upfront fees. You can't collect any fees from a customer before you have settled or other¬wise resolved the consumer's debts."
Other amendments to the TSR took effect on September 27, 2010. Anyone who violates the TSR is subject to civil penalties of up to $16,000 per violation. In addition, violators may be subject to nationwide injunctions that prohibit certain conduct, and may be required to pay redress to injured consumers.
The TSR now defines a "debt relief service" as a program that claims directly, or implies, that it can renegotiate, settle or in some way change the terms of a person's debt to an unsecured creditor or debt collector – including tax debts. According to the FTC, if you help settle "tax debts owed to the government – you're covered by the new Rule."
The expanded definition includes reducing the balance, interest rate, penalties or fees a person owes. The TSR defines "telemarketing" as a "plan, program, or campaign…to induce the purchase of goods or services" involving more than one interstate telephone call. The TSR encompasses all forms of advertising, including Internet, web pages, television, radio, and direct mail.
The TSR contains specific requirements for debt relief service providers related to the charging of fees before providing any services. It specifies that fees may not be collected until:

the debt relief service successfully renegotiates, settles, reduces, or otherwise changes the terms of at least one of the consumer's debts;
there is a written settlement agreement, debt management plan, or other agreement between the consumer and the creditor, and the consumer has agreed to it; and
the consumer has made at least one payment to the creditor as a result of the agreement negotiated by the debt relief provider.
HOW TO REGISTER FOR THE WEBINAR
There is no charge to attend this webinar. To attend, simply register at the following URL (cut and paste into your browser for easier use):
https://student.gototraining.com/67q2t/register/5323663007463755008
If you have any questions or require any additional information about the webinar, please e-mail National Policy Group at Info@NationalPolicyGroup.com.
ABOUT NATIONAL POLICY GROUP
National Policy Group (http://www.NationalPolicyGroup.com) is a highly experienced legislative and government affairs firm providing comprehensive lobbying and regulatory representation to corporations, associations, professional organizations, and specialized interest constituencies.
National Policy Group gives you the inside experience, contacts and knowledge of procedures that comes only from decades on Capitol Hill, the White House, regulatory agencies, and state legislatures. From the introduction of a bill, to committee consideration, to floor debate, to conference, and to the signing into law, National Policy Group can assist you each and every step of the way.
National Policy Group provides our clients with executive leadership and oversight of all aspects of government relations. National Policy Group provides:
Accomplished strategists with distinguished track records that consistently gain access at the highest levels of government, in Congress, and the states to achieve legislative and regulatory successes.
Effective lobbyists for the implementation or defeat of specific legislation and public policy initiatives.
Extensive experience with both federal and state legislative and regulatory issues.
Experts with knowledge of legislative and regulatory mechanics and processes at the state and federal levels.
Proven leaders in moving legislation to the foreground of political discussion.
ABOUT VENABLE LLP
With nearly 600 attorneys in offices across the country, Venable LLP is one of American's top 100 law firms. Venable earned the coveted Chambers USA Award of Excellence in the Advertising category, as well as top practice group rankings from Chambers USA and Legal 500. Venable also has been included among the country's leading law firms in a just-published ranking by U.S. News & World Report and Best Lawyers. Venable has attorneys practicing in all areas of corporate and business law, complex litigation, intellectual property, and government affairs. Venable serves corporate, institutional, governmental, nonprofit, and individual clients throughout the U.S. and around the world from its headquarters in Washington, DC and offices in California, Maryland, New York, and Virginia.
###