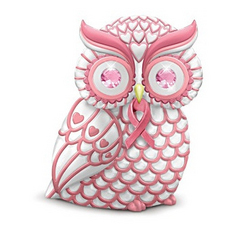 The Hamilton Collection's Breast Cancer Gift Collection will help women affected by the disease to celebrate an important journey on the road toward a cure.
Niles, IL (PRWEB) September 28, 2010
The Hamilton Collection and the Bradford Exchange are proud to announce a collection of fine jewelry and other unique breast cancer gift items in support of Breast Cancer Awareness month in October 2010.
These breast cancer awareness gifts and breast cancer survivor gifts are designed to raise awareness and bring hope, strength and courage to women affected by the disease.
A portion of the proceeds from purchases of these breast cancer gifts will be donated by the Hamilton Collection to support research in the fight against breast cancer.
Virtual visitors to the Bradford Exchange Breast Cancer Store can choose from an array of sparkling breast cancer awareness jewelry. The sterling silver Journey of Hope Necklace is a handcrafted pendant, with crystals that increase in size along a graceful curve as they change from white to a deep rose pink.
A second necklace offered in the breast cancer jewelry collection is the Butterfly of Hope, a stunning pendant plated in 24K gold and hand-set with 78 Swarovski® crystals.
For women who prefer bracelets, the Circle Of Hope Charm Bracelet is sterling silver-plated, embellished with heart-shaped charms engraved with expressions of encouragement, a pink ribbon charm, and Swarovski® crystal dangles.
Other breast cancer jewelry pieces are available, from the Pearls of Hope necklace to an engraved crystal heart pendant with Lena Liu art and pink Swarovski® crystals.
In addition, The Hamilton Collection Breast Cancer Store offers an array of unique collectibles suitable for breast cancer awareness gifts.
The charming HERSHEY'S® Heirloom Porcelain® Kiss Music Box features a shimmering, hand-applied pink metallic "wrapper," with a silvery Limoges-style hinge, topped by a sparkling pink ribbon clasp. Sporting the Kisses® for a Cure message written on the characteristic white ribbon pull, this keepsake plays the melody "You're the Inspiration."
Other breast cancer gifts breast cancer gifts include charming figurines that range from Jasmine Becket-Griffith's fairy of hope to a Thomas Kinkade-inspired Pink Lady – with an entire menagerie of cute critters in between. What woman could resist the adorable Hats Off to the Cure pose of Charming Tails Maxine Mouse? Or the limited-edition, cuddly Yorkie pup with pink collar, ribbons, simulated gems, and puffy pillow?
"The Hamilton Collection's Breast Cancer Gift Collection will help women affected by the disease to celebrate an important journey on the road toward a cure." Each time they wear their jewelry, catch a glimpse of an adorable collectible, or hear their music box, they will be reminded that they are not alone.
Breast Cancer Awareness Month is sponsored by a national organization that works year round with other organizations, medical associations, and government agencies. This partnership promotes awareness and shares information, while also striving to provide greater access to screening services.
Aside from non-melanoma skin cancer, breast cancer is the most common form of cancer in women, according to the national Centers for Disease Control & Prevention. The number one cause of cancer death in Hispanic women, it is the second most-common cause of cancer death in white, black, Asian/Pacific Islander, and American Indian/Alaska Native women.
About The Hamilton Collection and The Bradford Exchange
The Bradford Exchange and The Hamilton Collection Online are built upon a foundation of well over three decades of experience and trust in the international collectibles market. Recognized with many top-level industry awards for the exciting designs and exceptional craftsmanship of collectible figurines, diecast and more, the companies are leaders in the present-day collector marketplace.
###