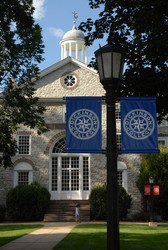 There is ground still to be gained
Carlisle, PA (Vocus) September 28, 2010
Dickinson College Endowment Gains 16 Percent; Returns Well Above Industry, Market Averages
Dickinson today announced a return of 16.1 percent for the college's pooled endowment. This impressive return put Dickinson into a very small, elite group of higher-education institutions to outperform their larger and much wealthier peers and the major stock market indexes.
A recent New York Times article about higher-education endowments focused on the outstanding results achieved by Columbia University and a handful of small colleges. The article specifically mentioned the success of Investure, the firm that manages an endowment consortium that includes Dickinson, Smith, Middlebury, Barnard, Trinity, the University of Tulsa and four foundations, stating its posted returns for the latest year as 15 to 18 percent compared to Harvard's 11 percent and Yale's 8.9 percent.
Dickinson has seen remarkable progress in its financial strength over the last decade. The last seven years have seen the endowment more than double despite the recession?evidence of the college's good stewardship of donor gifts and its solid investment strategy and success. The college also is on track to complete in June 2011 a capital campaign?on time and over goal.
"There is ground still to be gained," said President William G. Durden. "Dickinson's admissions cross-over schools all have far larger endowments, and yet the college not only survives, it thrives. The high accomplishments of our students?the class of 2014 is the largest in our 237 year history, our ability to hire tenure-track faculty, and our accomplished alumni whose 11 percent increase in giving took the annual fund to a record-breaking high of $4 million—all are evidence of Dickinson's ability to outperform its wealth. There isn't a ranking in the world that measures the seemingly intangible virtue of outperformance, especially in such demanding economic times and when the future of liberal-arts colleges is being questioned."
Vice President and Treasurer Annette Smith Parker expects the endowment's impressive returns to place Dickinson among the top 10 percent of the nation's colleges and universities for financial year 2010 (FY10), noting that preliminary surveys indicate other institutions averaged returns of 12.5 percent. Recovering well from the market instability of the last two years, the college's total endowment ended FY10 at approximately $312 million.
# # #