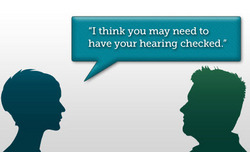 Hearing-Aid.com recommend choosing a hearing specialist who wants to build a long-term provider-patient relationship, and makes you feel comfortable and confident about living with hearing aids.
Minneapolis, MN (PRWEB) September 29, 2010
When was the last time you had your hearing checked? Most American adults believe that their doctor checks their hearing during each annual exam, but that is not the case. According to Hearing-Aid.com, only 10-13% of general practice (GP) physicians regularly test their patients' hearing, and even the most perceptive GP may not recognize the signs of mild hearing loss.
October is Audiology Awareness Month, the perfect time to schedule an appointment with a local hearing specialist. There are three types of hearing specialists who can help with a hearing test – a hearing instrument specialist, an audiologist or an ENT. The following information illustrates the difference between these healthcare professionals.
Hearing Instrument Specialist - A hearing aid dispenser or specialist, authorized by the state to measure hearing using an audiometer, and to fit and sell hearing aids.
Audiologist – A healthcare professional with a master's or doctoral degree in audiology from an accredited university. Audiologists must meet their state's requirements to practice clinical audiology.
Ear, nose and throat (ENT) doctors or "otolaryngologists" are physicians. They have earned a medical degree (MD) or a Doctor of Otolaryngology (DO).
In most communities, patients may be able to choose from any one of these hearing specialists to perform a hearing evaluation and hearing tests.
Here are some guidelines to keep in mind when choosing a hearing specialist.
Choose a hearing specialist who offers these critical services.

Discusses the hearing problem and how it impacts lifestyle and relationships.
Asks about the various listening situations the patient experiences most frequently.
Identifies any physical problems which might affect the ability to adapt to hearing aids.
Conducts a thorough hearing exam and clearly explains the results.
Provides a clear and realistic understanding of what to expect from hearing aids.
Patients are encouraged to choose a hearing professional who wants to build a relationship with them. Hearing aids are an important, long term healthcare decision. A hearing specialist who makes the patient feel comfortable and confident about living with hearing aids is key to successful treatment.
To learn more about choosing an audiologist or other hearing specialist, visit Hearing-Aid.com.
###