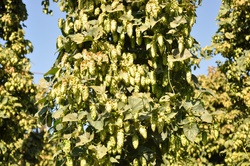 If approved by the full board in late October, we strongly believe this decision will have a devastating impact on U.S. organic hop farms.
Yakima, WA (PRWEB) September 28, 2010
Hops were first added to the National List by the NOSB in June 2007, when organic hops were primarily produced in Europe and New Zealand. Since then, the U.S. organic hop industry has made significant advances. Progressive, large-scale family farms in the Pacific Northwest and small, local growers across the country are now growing organic hops, even though the hop producers believe the market for them has remained weak due to the current NOSB policy which allows brewers to use less expensive, non-organic hops in their beer labeled organic.
In an attempt to remove hops from the National List, the American Organic Hop Grower Association (AOHGA) submitted a petition to the USDA in December 2009, supported by Sierra Nevada Brewing Company, Anheuser-Busch, Lakefront Brewery, Seven Bridges Cooperative, and Hopunion LLC.
The NOSB's response in their recent recommendation states, "On the basis of written and public comment in response to this petition to remove, organic hops were deemed not to be available in the form, quantity, or quality to currently justify removal from 205.606. To do so would negatively impact the organic brewing industry." Instead, their recommendation will have a devastating impact on the organic hop industry. Is the USDA saying they don't care what happens to these farmers?
The recommendation goes on to say, "A significant number of written and public comments at the Spring 2010 NOSB meeting contended that although some varieties of hops were available as organic, not all varieties are equal, and many varieties used for specific flavor profiles or beer types were not available." In this case, hops are being held to a higher standard than virtually any other agricultural product with respect to their use in an organic product. In the production of beer, not every variety of barley is available organically but organic brewers are required to use organic barley in a beer labeled "organic". Why does the NOSB feel that all varieties of hops need be grown organically before organic hops are required for use in organic beer? With over 150 varieties of hops in existence, it is uneconomical for organic hop growers to produce all hop varieties for the spot market before hops can be removed. This is a nearly impossible standard that no other crop has been held to.
Furthermore, the USDA National Organic Program (NOP) crop pest and disease management practice standard (section 205.206) states that a "producer must use management practices to prevent crop pests, weeds, and diseases including but not limited to…selection of plant species and varieties with regard to suitability to site specific conditions and resistance to prevalent pest, weeds, and diseases". This USDA rule recognizes that not all varieties of a crop are appropriate for organic production, so it is therefore contrary to the intent of the NOP to expect all varieties of a crop be commercially available in organic form.
In the face of these facts, it is puzzling that the NOSB committee voted unanimously to continue the USDA exemption of hops. Their report referenced "a significant number of written and public comments at the Spring 2010 NOSB meeting," but only three are on record: two in favor of changing the rules, and one by a brewer who has since been working with growers to ensure his supply of organic hops. This raises the possibility that there were private comments made, which calls into question the transparency of the process thus far. Or perhaps the committee simply did not investigate the facts sufficiently.
The AOHGA believes the NOSB's recommendation sets forth an unreasonable standard that will discourage present and future organic hop production. The committee provided no guidance to growers as to how many organic hop varieties are necessary before hops could be removed from the National List, nor have they named one type or style of beer that cannot be brewed with the organic hops that are commercially available in the market today. As long as a single organic brewer can cite the unavailability of a particular hop variety in the spot market as justification for hops continuing on the list, hops will remain on the list indefinitely, and the U.S. organic hop industry will suffer dramatically.
How can you help? The upcoming NOSB meeting, where the final decision will likely be made, will be held October 25-28 in Madison, WI. The NOSB is accepting written comments until Tuesday, October 12. Please visit usorganichops.com for instructions on submitting comments.
About the AOHGA: The American Organic Hop Grower Association was formed by organic hop farmers to promote the use of organic hops. For more information on the AOHGA, please visit http://www.usorganichops.com.
###