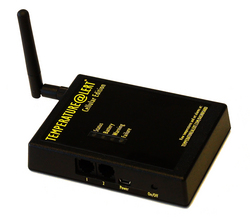 One of the greatest and most simple devices encountered in a long time
Boston, MA (PRWEB) September 28, 2010
Temperature@lert announced today the release of its latest generation Cellular Edition remote temperature sensor, the TM-CELL300. Acclaimed by customers as, "One of the greatest and most simple devices encountered in a long time," The TM-CELL300 builds on the legacy of the company's most advanced product line, its Cellular Edition.
The cellular data logger monitors temperature and/or humidity and alerts you via phone call, email or text message when the readings are out of range all without a phone line or internet connection. The latest version provides customers with several new advanced capabilities and benefits to make it the most user-friendly, cost-effective Cellular temperature and humidity sensor on the market today:

Easy to set up and use – just plug it in and it begins monitoring.
Dual Sensor Input Capability – Significantly reduces Cost/Sensor (Measurement Point), very useful where monitoring of both refrigerator and freezer compartments of storage units is required.
Temperature/Humidity Sensor Option – Adds Relative Humidity monitoring for critical applications such as Servers, HVAC Systems, Refrigerators and Freezers, Archives and Laboratories.
Set and send alerts for multiple temperature and/or humidity thresholds – provides an easy and meaningful way to implement an escalation strategy based on severity of the conditions.
Send multiple email, text and voice messages for each threshold and notification type – lets those who are most affected by potential problems know when issues arise and when they are resolved.
"Hundreds of customers are enjoying the freedom and peace of mind of our Cellular Edition product offerings today," reports Harry Schechter, Temperature@lert Founder and CEO. Customers include Hospital and Bio/Pharma Laboratories, Doctor's Offices, Food Distributors and Retailers. Many customers have related how much they appreciate the simplicity of our device and ease of use. We believe this latest generation offering provides the most cost-effective, easy-to-use cellular temperature and humidity monitoring and alerting device in the market today."
The new TM-CELL300 incorporates the exceptional features of its predecessors such as:
Dashboard web browser interface – connect anywhere on any browser to set one or more alarm limits and view on-line temperature history
HealthCheck functionality – lets you know if the device has stopped reporting, providing piece of mind that monitoring is always running
Affordable all inclusive month-by-month service plans – no long term contract required
iPhone App lets you check your temperature readings anywhere
Options include NIST Certification, solar power supply, and custom length sensor cables
About Temperature@lert
Temperature@lert (http://www.temperturealert.com) is the leading provider of low-cost, high-performance temperature monitoring products. Our products provide early warning of temperature changes before it's too late. Since launching, over 10,000 Temperature@lert products have been sold to customers in over 40 countries. Temperature@lert systems are protecting over $250,000,000 of customer assets.
Media Contact
Dave Ruede
866-524-3540
dave(at)temperaturealert(dot)com
###