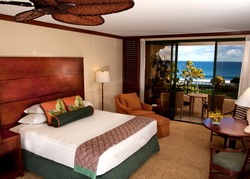 The mix of modern efficiency with a distinct Hawaiian flair embraces our traditional Hawaiian classic style with clean lines and simple elegance, functional yet beautiful
Poipu, Hawaii (PRWEB) September 29, 2010
Fresh newly renovated guestrooms are ready to greet guests at Grand Hyatt Kauai Resort & Spa. With the first building of guest rooms completed, the Kauai, Hawaii hotel has begun renovating the second and largest building, which will be completed in December. The guestroom's new look reflects the resort's renowned Hawaiian Classic style of graceful elegance.
Bringing the richness of Kauai indoors, the refreshed rooms create a comfortable, private retreat for guests. New additions to the Kauai resort's rooms include a brilliant white marble tiled entryway, spacious walk-in showers for most rooms with a King sized Grand BedTM and new shower-bath combos for the others. Baths feature marble countertops with double sink vanity and luxurious rain style showers. The roots of Hawaii are ever present in the room's design elements with rich mahogany furniture and linens inspired by traditional kapa prints while stylized artwork pays homage to ancient Petroglyphs found in the sandstone adjacent to the resort. The unique hand carved headboard features an imprint of the native hapu'u fern bringing the resort's pervasive sense of understated style to new heights.
Rooms are neatly designed to maximize guest comfort and convenience while advancing the resort's overall conservation efforts. Adding to the Kauai resort's long list of environmental initiatives, the renovation will include highly efficient recessed lighting for the bathroom vanity area, Toto low-flow toilets using 1/3 less water than standard toilets, low VOC paints to reduce harmful emissions in consideration of guest health and comfort, carpeting made with recycled yarn, and energy-saving ceiling fans.
"The mix of modern efficiency with a distinct Hawaiian flair embraces our traditional Hawaiian classic style with clean lines and simple elegance, functional yet beautiful," stated Doug Sears, the Kauai, Hawaii hotel's general manager.
The multi-million dollar project will have all guests in the new guest rooms by January 2011 while the final building of 70 rooms is closed and renovated through April 2011. All guestrooms will be completely renovated by April 2011.
About Grand Hyatt Kauai Resort & Spa
Grand Hyatt Kaua'i Resort & Spa, a luxury resort overlooking Poipu's majestic Keoneloa Bay, offers 602 spacious guest rooms each with its own lanai. Set on 50 oceanfront acres, the resort features lush gardens with manicured lawns, six restaurants and six lounges, a water playground with a river pool, waterfalls and a 150-foot water slide, a saltwater lagoon, tennis, the award-winning Anara Spa, and golf at the adjacent Poipu Bay Resort. For more information or to make a reservation, please contact 1-800-55-HYATT or grandhyattkauai.com].
# # #