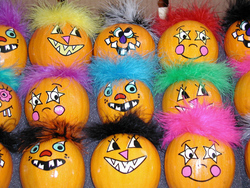 Kids are so creative. We are excited to see what they'll come up with
Burlington, WA (Vocus) September 28, 2010
Pumpkin Patch Pals ® is searching for brand new characters by launching a kids Design a Pal contest running October 1st through October 15th, 2010. "Kids are so creative. We are excited to see what they'll come up with," said Liz Mitchell, Co-founder of the painted pumpkin brand.
The Design a Pal contest will award prizes to the top three contestants. Entries will be judged on uniqueness of personality and suitable character names. Children twelve and under are encouraged to enter. All rules and submission information can be found. online at http://www.pumpkinpatchpals.com or facebook: Pumpkin Patch Pals.
The Pumpkin Patch Pals are a vibrant crew of festive, happy, mini painted pumpkin characters with colorful feathery hair. Offered in progressive grocery stores throughout the United States and Canada, they are enjoyed by everyone they touch during the fall and Halloween season.
Every pumpkin is individually painted and hand decorated. Their uniformly round, petite size makes them perfect party favors, festive table decorations, seasonal gifts, school and sports team fundraisers, and special event memorabilia.
About AMF Farms / Bay Baby Produce, Inc.
AMF Farms and Bay Baby Produce grow 200 plus acres of miniature and pie sized pumpkins each year. Michele Youngquist, Co-founder of AMF Farms and Bay Baby Produce, has been in the pumpkin painting business for over 20 years. Michele farmed several crops before specializing in miniature painted pumpkins. Liz Mitchell, Co-founded AMF Farms and Bay Baby Produce with Michele 13 years ago. With a background in marketing and materials development, Liz designs and develops all the Pumpkin Patch Pals characters.
Together Michele and Liz completely focus their time on the marketing, production and the cutting edge creation of fresh products for each new fall season. Working from the AMF Farms, Inc. pumpkin decorating facility in Burlington, WA, Liz and Michele have developed a proprietary painting and production process that is able to provide consistent, top quality miniature painted pumpkins and activity sets.
To learn more, visit http://pumpkinpatchpals.com and http://baybabyproduce.com .
###