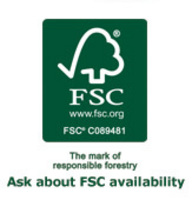 It is important for us as a leading manufacturer of tickets, wristbands and other products for the amusement and entertainment industries to lead the way when it comes to being mindful of the environment
Shamokin, PA (Vocus) September 28, 2010
National Ticket Company, a family owned and operated business since 1907 with clients in over 86 countries, has supported environmental initiatives for years. "It is important for us as a leading manufacturer of tickets, wristbands and other products for the amusement and entertainment industries to lead the way when it comes to being mindful of the environment," says Ed Ludes, VP of Manufacturing at National Ticket. Ludes added, "We have always taken an active roll to ensure we are doing everything we can to minimize the impact our manufacturing and production processes have on the environment. For instance, more than 85% of our production waste is recycled. Twenty-five years ago we eliminated hazardous waste from our plate making. And for the past fifteen years, we have been converting our printing processes from oil based inks, to water based inks."
In addition to the environmentally responsible initiatives mentioned above, National Ticket Company also recently introduced its Sta-Put Tab Wristbands, very popular with amusement parks, water parks, science centers, museums, zoos, parks and recreational areas, state fairs, family entertainment centers, campgrounds, and other entertainment venues. National Ticket's Sta-Put Tab wristbands offer litter-free, peel-off tabs that "stay put" (hence the name) and attached to the wristband; this helps eliminate waste and litter from annoying wristband tabs that can drop on the ground. It also helps save time and costs by minimizing clean-up of fallen tabs after events.
"We have received tremendous response to our Sta-Put Tab wristbands, as well as our recent Forest Stewardship Council (FSC) Chain of Custody", says Jason Mauser, Vice President of Sales & Marketing at National Ticket Company. "Our excellent product quality and customer service have always helped us maintain a competitive advantage, but focusing on initiatives that support the environment help as well. This is important to our customers; they want to know that they are dealing with a company who is environmentally conscious."
About National Ticket Company
National Ticket Company is a family owned and operated business established in 1907, with clients in over 86 countries. National Ticket Company is one of the most respected names in the ticket and wristband printing business, and services thousands of clients in numerous industries. The company prides itself on the quality and accuracy of their printing and manufacturing processes, dedicated employees, superb customer service and a long list of satisfied customers in the following industries: amusement parks, water parks, live theaters, movie theaters, museums, FECs, minor league sports, high school sports, collegiate sports, professional sports, fairs and festivals, carnivals, zoos, aquariums, state fairs, local festivals, and community events.
###