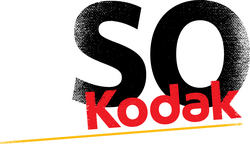 Kodak will launch its new campaign at a special exclusive performance in New York City in October featuring Drake, Pitbull and Trey Songz.
Rochester, NY (PRWEB) September 27, 2010
Are you So Kodak?
To view the full multimedia release, visit http://www.areyousokodak.com/
Three of today's hottest young recording artists – Drake, Pitbull and Trey Songz – will each answer that question in their own unique way as part of an integrated marketing campaign celebrating what it means to be "So Kodak." The campaign, which launches in early October, draws on the brand's unique position in pop culture to engage young, socially connected consumers. The So Kodak campaign coincides with the introduction of the newest KODAK EASYSHARE Digital Cameras featuring Kodak's exclusive Share Button. The Share Button makes it easy for consumers to share their pictures and videos with their social network.
American popular culture has long embraced the KODAK MOMENT as an experience worthy of being captured in a picture. Today, the Kodak brand has taken on an even more personal meaning among young, tech-savvy and socially connected consumers. In the current context, "So Kodak" is widely used among urban youth as a way to describe moments, actions and people that are hot and hip and worth talking about, bragging about and sharing with your entire social network. This explains why the word "Kodak" increasingly appears in conversation, social media, and even popular song lyrics.
To tap into this evolution of the brand, Drake, Pitbull and Trey Songz will be featured in a dynamic multi-platform advertising and marketing campaign designed to bring to life what it means to be "So Kodak." The campaign will feature a series of broadcast spots directed by award-winning director Chris Robinson along with online advertising, radio, exclusive events, social media engagement and consumer promotions.
"Being on the road, I'm often away from family and friends. Kodak – with features like the Share Button – makes it easier to keep in touch, which is important to me," said Grammy-nominated artist Drake. "I'm excited to be part of the So Kodak campaign since it is all about expressing yourself, something I strive to do in my music everyday." Drake's debut album, "Thank Me Later," has gone platinum and he will be touring North America through the fall.
"As an artist, I have the opportunity to travel and experience the world from a unique point of view. My life is So Kodak, full of hot moments that I want to capture and share with family, friends and fans," said international superstar Pitbull, whose new single "Hey Baby (Drop It To The Floor)" featuring T-Pain will be spotlighted in the So Kodak campaign. "Kodak understands this mindset and has made it easy to share with their Share Button. I am honored to be a part of this campaign and to support the So Kodak story." Pitbull's new album, "Planet Pit" (Mr. 305/Polo Grounds Music/J Records) is set for release in December.
"The So Kodak campaign is young and fun. It's all about connecting with others through images. What you're doing, how you see things... life from your point of view," said platinum-selling R&B superstar Trey Songz, who will be joining Usher on his recently-announced OMG tour. "I'm constantly sharing my experiences with my friends, family and fans, so I am excited to partner up with Kodak. Social networking is my way of getting closer to my fans and for them to have a relationship with me. We may not always be able to meet face-to-face, but with Kodak's Share Button, it's easy to stay connected to them – whether I want to share intimate moments to help them get to know me better, or brag about having the hottest ladies in my Trey's Angels fan club." Trey recently dropped his fourth studio album, "Passion, Pain & Pleasure."
Kodak will launch its new campaign at a special exclusive performance in New York City in October featuring Drake, Pitbull and Trey Songz. Further details will be announced next week.
"Young people are an important target market for Kodak, as sharing pictures across their favorite social networks is part of their daily routine. We've partnered with three influential and unique artists who share a lot themselves, are very engaged with their fans and show what it means to be 'So Kodak,'" said John Blake, General Manager, Digital Capture and Devices and Vice President, Kodak. "We are highlighting the simple, fun and exclusive sharing experience that only KODAK EASYSHARE Digital Cameras and our Share Button offer."
"Kodak is known for innovative products that help people stay connected," said Leslie Dance, Director and Vice President, Worldwide Brand Marketing and Communications, Kodak. "The So Kodak campaign reflects the idea that the 'best me is the shared me.' These artists embody what it means to be 'So Kodak.' Their distinctive, innovative styles and personal connection with their fans really reflects the spirit of the Kodak brand and how it's being embraced in popular culture today, especially among younger consumers."
About KODAK EASYSHARE Digital Cameras
Kodak offers the world's only digital cameras with 3-step sharing capability. Using Kodak's unique Share Button, consumers can simultaneously share their pictures to multiple social networks including FACEBOOK, KODAK GALLERY, FLICKR, ORKUT and YOUTUBE, as well as email.*
The latest addition to Kodak's award-winning line of digital cameras, the new KODAK EASYSHARE M590 Digital Camera, is the ultimate social networking accessory for people who love to share pictures. Featuring Kodak's exclusive Share Button, it's also the world's thinnest** 5X optical zoom digital camera and boasts a sleek, modern and stylish design. The KODAK EASYSHARE M590 Digital Camera is available for US $199.95 MSRP in silver, red, purple and blue at major retailers and Kodak.com.
*All models manufactured in 2010 or later
**World's thinnest 5X optical zoom digital camera as of July, 2010
About Kodak
As the world's foremost imaging innovator, Kodak helps consumers, businesses, and creative professionals unleash the power of pictures and printing to enrich their lives. To learn more, visit http://www.kodak.com and follow our blogs and more at http://www.kodak.com/go/followus. More than 75 million people worldwide manage, share and create photo gifts online at KODAK Gallery--join today at http://www.kodakgallery.com. Choose from the widest selection of Kodak digital cameras, all-in-one inkjet printers, pocket video cameras and more at http://store.kodak.com.
© Kodak, 2010. KODAK, KODAK MOMENT and EASYSHARE are trademarks of Eastman Kodak Company.
###