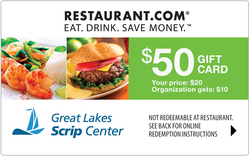 We are so pleased to join the Great Lakes Scrip Center fundraising family and to serve as a resource for non-profits looking to raise money more efficiently
Arlington Heights, IL (PRWEB) September 28, 2010
With the new school year in full swing, Restaurant.com today announced its gift cards are now available to non-profit organizations through Great Lakes Scrip Center (GLSC), a company that connects consumers and major U.S. retailers through innovative scrip fundraising programs. Now, GLSC-enrolled organizations can benefit from the support of local restaurants and sell $50 Restaurant.com Gift cards for $20 with a 50 percent non-profit contribution, the largest retailer contribution in GLSC history. With more than 15,000 restaurants to choose from, the high value, low cost Restaurant.com Gift Card can be used by non-profit organizations of all sizes to support fundraising efforts.
"We are so pleased to join the Great Lakes Scrip Center fundraising family and to serve as a resource for non-profits looking to raise money more efficiently," said Cary Chessick, president and CEO of Restaurant.com. "Our restaurant partners are really committed to supporting the schools and organizations in their local communities and we are look forward to helping GLSC clients take full advantage of the unique fundraising benefits Restaurant.com Gift Cards offer."
Since the company's launch in 1994, GLSC has helped its non-profit clients raise more than $350 million through strategic retail partnerships. The company offers the industry's largest selection of scrip gift cards representing retailers from across the country. GLSC-enrolled organizations can purchase the gift cards at a substantial discount and re-sell them for full face value. The addition of Restaurant.com to GLSC gives enrolled organizations access to a highly discounted product that offers a 50-percent contribution.
"We are excited to add Restaurant.com to our growing list of reputable retail partners. The gift cards are already becoming a popular choice among our clients," said Ann Mickley, director of procurement of Great Lakes Scrip Center. "On top of offering an impressive restaurant selection and non-profit contribution, Restaurant.com Gift Cards allow us to bring smaller, independent restaurants to the scrip market--something we wouldn't have been able to provide on a national level."
Restaurant.com officially launched its fundraising program in early 2010. The basis of the program uses Restaurant.com Gift Cards that are valued at $50 and cost fundraising supporters $20. Through this new partnership, GLSC-enrolled organizations that select Restaurant.com Gift Cards as their scrip gift card of choice earn $10 for every gift card sold. The gift card value can be redeemed in three steps at http://fundraising.restaurant.com. Redemption options are available for more than 15,000 Restaurant.com restaurants nationwide, plus participating online merchant partners.
"Through our partnership with Great Lakes Scrip Center and the mass appeal of dining out, we hope our continued commitment to the fundraising industry aids in offsetting non-profit budget cuts across the country," said Chessick.
To learn more about Great Lake Scrip Center and Restaurant.com fundraising visit http://www.glscrip.com or http://www.incentives.restaurant.com/fundraising.aspx.
About Great Lakes Scrip Center
Founded in 1994, Great Lakes Scrip Center has helped retailers ring up nearly $6 billion dollars in sales while raising over $350 million dollars for our non-profit clients. Great Lakes Scrip Center's scrip fundraising model uses proven affinity marketing strategies to build store traffic for retailers and provide a consistent source of revenue to American schools, churches and other non-profit organizations. More than 300 national and regional retailers rely on GLSC for access to more than 15,000 motivated non-profit organizations in all 50 states. For more information about Great Lakes Scrip Center, please visit http://www.glscrip.com.
About Restaurant.com
Restaurant.com is the trusted and valued source connecting restaurants and diners nationwide. The company offers savings at more than 15,000 restaurants nationwide with more than 33,000 daily gift certificate options. Restaurant.com brings people together to relax, converse and enjoy well-prepared and -served meals at affordable prices. To date, Restaurant.com customers have saved more than $100 million through the gift certificate program. Restaurant.com has operated since 1999 and is based in Arlington Heights, Ill.
###