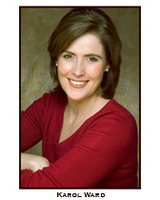 The need for good speakers and communicators in today's world is more valuable then ever. Now is a time for inspiration not fear mongering. Those who can deliver that kind of message will be sought after both politically and in business
New York, NY (PRWEB) September 27, 2010
Karol Ward, LCSW, author of Worried Sick: Break Free From Chronic Worry to Achieve Mental and Physical Health (Berkley, 2010) understands the value of good communication and will be presenting her expertise on November 6th to the Toastmasters District 31 Conference in Dedham, MA. Whether you are trying to win an election, bring more clients into your current business or expand your company, knowing how to connect with people is a great asset. Understanding the needs of your audience and knowing how to discern what is important to them, is a key element to building your business. Karol Ward's presentation will focus on how to look for speaking opportunities, the importance of customizing your message and why in person networking is crucial. Ward says, "The need for good speakers and communicators in today's world is more valuable then ever. Now is a time for inspiration not fear mongering. Those who can deliver that kind of message will be sought after both politically and in business".
With a degree in psychology and communication, Karol has the ability to perceive the impact of verbal and non-verbal communication on audiences. She teaches presentations skills to corporations and organizations that are looking to reach their audiences with more power and authenticity. Karol understands that the ability to communicate hopeful ideas, information and inspiration, in the political, business and wellness arenas are what audiences are hungry for.
As a professional speaker, author and communication consultant, Karol has appeared on CNN, NBC and ABC as a psychological expert, and has been featured in Cosmopolitan, The New York Daily News, Women's Day, Black Enterprise, and Reader's Digest. She also has been interviewed on numerous radio programs and websites such as MSNBC.com, AOL.com and About.com
In addition, Karol speaks on the psychological impact of the economy on personal and professional relationships. Her first book, Find Your inner Voice: Using Instinct and Intuition Through the Body-Mind Connection (Career Press, 2009) teaches readers how to use their instinct and intuition for powerful professional and personal decision making. Linking gut instinct with the power of the mind is a valuable asset to successful business people.
Karol is a recognized expert in her field and is available to comment on psychological, communication and wellness issues reported by the media.
212-420-7428
http://www.karolward.com
###