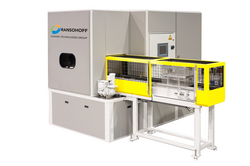 Cincinnati, OH (PRWEB) September 29, 2010
Cleaning Technologies Group, LLC, a Cincinnati based manufacturer of precision parts washers, is proud to introduce the new LeanJet RB-2 Automated, an inline, fully automated cleaning solution utilizing spray, immersion, and ultrasonic cleaning technologies in a lean footprint to process baskets or pallets of parts.
The LeanJet RB-2 Automated machine was unveiled this year at the International Machine Tool Show in Chicago. This immersion cleaning system processes two (2) industrial standard size baskets of parts per cycle, up to twenty (20) baskets per hour. The LeanJet RB-2 parts washer cleans using a patented washing and rinsing process of agitation, spray impingement, hydraulic purging through immersion and rotation, ultrasonics, and heated blow-off drying. The patented "triple action" batch cleaning process was developed specifically to process a broad range of challenging parts, especially those with internal bores and passages and complex geometries, making this system capable of meeting critical cleaning expectations.
The LeanJet RB-2 parts washer also features the latest Siemens S7-1200 programmable controller and operator interface screen. This controls platform boosts system flexibility for automation integration, process control and data logging while offering an intuitive user interface.
As with all of the CTG LeanJet products, customer specific basket designs are available to accommodate larger parts.
Cleaning Technologies Group, LLC is a world leader in providing innovative cleaning and waste minimization technologies to precision and industrial manufacturing markets. CTG is comprised of Ransohoff located in Cincinnati, Ohio, and Blackstone~NEY Ultrasonics located in Jamestown, New York, and now CTG Asia located in Suzhou, China. The Group is the premier provider of high technology, environmentally friendly parts-cleaning and waste-minimization equipment and services to the global marketplace. CTG LLC is a wholly owned subsidiary of NM Group Global, LLC.
NM Group Global LLC is a holding company for a growing group of manufacturing firms with a global reach for sourcing and marketing. Founded in 2002 with the purchase of National Machinery LLC, the original holding company, and world leader in the development and manufacture of cold forming machines, process technology, and aftermarket services. National Machinery, founded in 1874, is headquartered in Tiffin, Ohio with service centers and sales offices throughout the world.
NM Group Global is distinguished by its ability to be acquisitive by having a private equity affiliate, Alpha Capital Partners Ltd. Alpha Capital, founded in 1984, is a private equity investment firm which provides equity financing for promising growth businesses and for buyouts or recapitalization of established companies. Currently Alpha Capital manages over $135,000,000 through its capital partnerships and other equity accounts.
Contact Information:
For Cleaning Technologies Group Asia- Suzhou, China
Enlin Zheng (Ned) & SuJing
56 Songshan Road, Suzhou New District
Jiangsu Province, China PRC: 215151
(86) 0512-66161698
(362) 529-1244
elzheng(at)ctgclean(dot)cn
Visit our website at http://www.ctgclean.cn
For Cleaning Technologies Group, LLC:
Chris Whittaker
4933 Provident Drive
Cincinnati, OH 45246
(800) 248-9274
(513) 870-1787
cwhittaker(at)ctgclean(dot)com
Visit our website at http://www.ctgclean.com
For NM Group Global, LLC:
John Bolte
161 Greenfield Street
Tiffin, OH 44883-2471
(419) 447-5211
jhbolte(at)nationalmachinery(dot)com
Visit our website at http://www.nationalmachinery.com
###