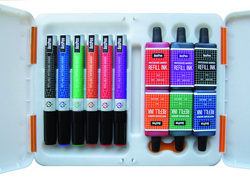 Any vendor can offer a product or service and call it green.
(PRWEB) September 29, 2010
In 2005, the City of San Francisco was the first in the nation to implement strict purchasing standards that would require all city departments to buy products that met environmental, health and toxicity guidelines. After five years of market study into green products, San Francisco launched its new website, SF Approved, in August 2010, listing more than 1,000 approved green products and services. To eliminate airborne toxins and the solid waste generated by disposable dry-erase markers, the San Francisco Department of the Environment suggests the use of AusPen refillable non-toxic markers.
The motivation to create such a list came from the challenge of knowing whether the claims of a 'green' product are actually true or stringent enough to meet city standards. "It is quite difficult for purchasing agents to find environmentally preferable products," Karl Bruskotter, environmental programs analyst with the City of Santa Monica, California, wrote in an e-mail. "Any vendor can offer a product or service and call it green, and the purchasing agent may not know how to ask the right questions to uncover whether or not the product really is green."
The approved products list takes many health and environmental factors into consideration, including recycled content, energy efficiency, product reviews from city staff and ingredients used. Aiming to reduce toxic exposure, researchers used the Berkely-based GoodGuide to assess the hazards of more than 60,000 chemicals. AusPen's non-toxic ink, which uses an organic vegetable compound, avoids the commonly used chemical xylene, a potentially harmful ingredient.
City staff is now required to buy PVC-free office supplies. PVC, another chemical identified by the GoodGuide, releases cancer-causing dioxins and can cause other problems such as high blood pressure, hypertension, nerve disorders and reproductive problems. Since AusPen markers are made of 100% recyclable aluminium, they meet the standards of recycled content and avoid PVC plastics.
While the SF Approved list was generated to serve as a resource for San Francisco city departments, it is also a template for other cities and corporate purchasing agents and consumers who are making efforts to go green. The online database can be used as a quick reference to others looking for unbiased information on eco-friendly products.
The approved list also regulates against products that are not approved. City purchasing agents are prohibited from buying certain products like bottled water, plastic foam containers and nickel-cadmium batteries.
AusPen markers are currently used by thousands of teachers and office workers across North America.
About EcoSmart Products:
EcoSmart Products (http://www.ecosmartworld.com) is the exclusive North American distributor of AusPen eco-friendly dry erase markers.
###