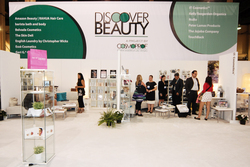 In line with the event mission to facilitate one-on-one introduction between manufacturers and distributors, the debut of the One-2-One Beauty Matchmaking software delivered outstanding results; more than 860 appointments were generated and accepted.
Las Vegas, NV (PRWEB) September 28, 2010
Economic climate notwithstanding – CPNA10 boasts success on several fronts
Cosmoprof North America delivered a powerful platform for both attendees and exhibitors allowing them to connect, see new products and conduct meaningful business meetings. As a result, productive launches are expected in the months to come, providing a much needed boost to the beauty industry. Encompassing all sectors of the industry in one venue, Cosmoprof North America remains the single most important forum for the entire beauty trade despite the challenging economic climate.
The event, held from July 18th – 20th, brought over 700 exhibiting companies to a sold-out show floor along with 25,000 quality attendees that included importers, distributors, manufactures, and global beauty leaders all under one roof. As in years past, Cosmoprof North America attracted many new and innovative brands in addition to industry leaders such as AHAVA, Alberto Culver, CONAIR, CND, Essie / L'Oreal Professional, JESSICA Nails, OPI Nail, Orly, RUSK, Schwarzkopf & Henkel, TIGI, z.one concept and Zotos International.
In line with the event mission to facilitate one-on-one introduction between manufacturers and distributors, the debut of the One-2-One Beauty Matchmaking software delivered outstanding results; more than 860 appointments were generated and accepted as requested by buyers, this was a tremendous lead-generating tool. Show organizers were proud to have delivered complimentary wi-fi to all attendees throughout the show's duration, allowing business professionals to communicate and attend to business in a timely manner. This show was among the first to offer complimentary wi-fi to all attendees.
Top trade publications from across the globe joined leading beauty industry professionals at Cosmoprof North America to seek out the newest emerging trends. Several consumer media outlets were present as well including ZINK and Life & Style Weekly magazines and Women's Wear Daily. Cosmoprof North America also saw that the trend of increased "eMedia," has not peaked. Last year marked the first year that the show had a dedicated area, Beauty Blogger Central, where leading online beauty editors were able to convene and affect the beauty landscape. Beauty Blogger Central returned to Discover Beauty 2010 where online editors and beauty bloggers such as AOL Stylelist.com, DailyMakeover.com, TotalBeauty.com, RomyRaves.com and many others reported on new and innovative trends, live from the show floor.
Priding itself on being the premier beauty venue for discovering new brands, this year's show provided another new and exciting opportunity for all show exhibitors. Online beauty editors and bloggers were presented daily with submissions from show exhibitors for the CPNA Daily Best in Beauty. At the conclusion of each day, the online beauty editors and bloggers selected their 'picks' for CPNA Daily Best in Beauty and posted their selections on their respective websites and blogs allowing beauty lovers all over the world the chance to see hot, new beauty trends unfolding. This demonstrated Cosmoprof North America's high commitment to staying at the forefront of beauty and ensuring that all show exhibitors had a positive and successful experience.
Through close-knit collaborations with countries seeking to expand their foreign trade in beauty, Cosmoprof North America dedicated special sections on the show floor to distinct International Country Pavilions. Country Pavilions allow small- and medium-sized companies from select markets to participate in the Cosmoprof North America event with the objective of obtaining direct "face time" with distributors and retailers to secure U.S. distribution. Featured countries at the 2010 show included: Argentina, Brazil, Bulgaria, China, Italy, South Korea, and Taiwan.
The International Buyer Program, a Cosmoprof exclusive, sponsored once again by UNIPRO, continued to unite buyers and sellers around the world with the resources, contacts, and data to build business. Returning to the show for the eighth year, beauty and cosmetics companies showcasing their products at Cosmoprof North America were offered the opportunity to meet one-on-one as part of pre-scheduled appointments with a group of selected importers and distributors. Overall 156 meetings were held as part of the International Buyer Program involving more than 60 exhibiting companies and 110 qualified international buyers. The international buyers were invited from Australia, Brazil, Canada, Chile, Ghana, India, Mexico, Panama and Senegal to participate.
Discover Beauty, another Cosmoprof North America exclusive, assists newly emerging brands in finding the proper market, while spotlighting the newest trends for influential retail buyers. By offering one-on-one meetings between key decision makers from prestigious retailers such as C.O. Bigelow, Henri Bendel, HSN, La Rinascente (Italy), Pure Beauty and STUDIO BEAUTYMIX selected Discover Beauty brands were able to present their products for immediate consideration and feedback from the decision makers themselves.
Additionally, this year's show continued the successful Discover Beauty – Spa program through a strong collaboration with the Las Vegas Spa Association (LVSA) which brought spa directors from some of the largest spas in the country to one-on-one meetings with selected Discover Beauty – Spa brands. Discover Beauty – Spa featured spa directors/buyers from Caesar Palace Qua Spa, MGM Grand Spa and Red Door Spas.
The DISCOVER BEAUTY AWARD returned this year with 13 brands participating in the 2010 Discover Beauty program. These brands were judged on creativity, innovation and market readiness. The voting was done by specialty retailers such as Beauty Collection, C.O. Bigelow, Henri Bendel, Home Shopping Network, Pure Beauty and STUDIO BEAUTYMIX, as well as various beauty bloggers including AOL Stylelist.com, DailyMakeover.com and TotalBeauty.com. Announced at the Discover Beauty Party at MIX at THEhotel in Mandalay Bay, the recipient of the 2010 Discover Beauty Award was barista bath and body. barista bath and body, is the first full line of natural hair and skincare products to leverage the benefits of coffee appealing equally to men, women and coffee aficionados everywhere. The line was launched by three generations of successful businesswomen inspired by coffee and determined to bring performance-driven natural beauty products to the marketplace.
Special educational seminars were filled to capacity with more than 1,100 attendees in total. Businesses and industry leaders from multiple sectors of the industry participated in round-table discussions and panels to share their knowledge and insights. Highlighted educational seminars included:

Look Back, Look Ahead, Look Within. Panelists included Virginia Lee of Euromonitor International, Alisa Marie Beyer of The Benchmarking Company and Brian Luborsky of Premier Salons. Moderated by Jeff Falk, Senior Editor of GCI Magazine.
ICMAD Niche Breakthrough Ideas and How They Come to Life. Panelists included Rob Akridge, Ph.D. of Clinical Affairs of Clarlsonic, Michael Benjamin of Temptu and Jane Iredale of Iredale Mineral Cosmetics. Moderated by Pam Busiek, President of CBI Laboratories.
WWD Presents Behind the Retail Door – The Reality Check. Panelists included Kathy Steirly of Kathy Steirly & Associates, LLC, Claudia Lucas and David Altman of MarketShare Advisors, LLC. Moderated by Andrea Nagel, Mass Beauty Editor of Women's Wear Daily.
Private Label Marketing and Packaging – Finding the Mix that Maximizes ROI. Panelists included Pam Busiek of CBI Laboratories, Andy Johnson of Creative Partner of United DSN and Ian Ginsberg of C.O. Bigelow. Moderated by Phillip Russo, Publisher of Private Label Magazine.
CEO Summit for the Professional Industry – Beauty Never Fades the Pulse of the Industry. Panelists included Pat Parenty of L'Oreal Professional Division, Michael Riley of Scruples, John Heffner of CND and Ron Krassin of Zotos International. Moderated by Ann Mincey, recent Legend at the Legends & Icons Charity Gala.
PBA Distributor Forum: Training New Distributor Sales Consultants.
Increasing Revenue with Social Networking. Panelists included Dan Lagani of Readers Digest Media, Nancy Trent of Trent & Company, Inc. and Joshua Onysko of Pangea Organics. Moderated by Romy Schorr, Beauty Blogger and Founder of RomyRaves.com.
The North American Hairstyling Awards (NAHA), the professional hair care industry's single most important awards event of the year, were also held in conjunction with Cosmoprof North America on Sunday, July 18th. The theme for NAHA 2010, Haute Fashion, Inspired Design, was a star-studded awards ceremony, attended by a record number of over 2,800 guests at the Mandalay Bay Resort & Casino in Las Vegas, and was seen worldwide via live steaming broadcast by an additional 22,000. These extraordinary stylists showcased the talent and creativity of the professional beauty industry in North America.
A notable presence at this year's gathering included actress and activist Holly Robinson Peete, who is co-founder of The HollyRod Foundation. Peete was awarded the 2010 PBA Beautiful Humanitarian Award during NAHA 2010 for her far-reaching humanitarian work.
Eva Graham, founder of NIOXIN Research, was also honored during Cosmoprof North America on July 19th with the City of Hope 2010 Spirit of Life® Award. This black-tie gala featured an array of industry notables from the professional beauty industry all paying tribute to Ms. Graham for her extensive efforts and community outreach.
For more detailed information or images from Cosmoprof North America 2010, please contact Chidimma Ozor at cozor(at)ypublicrelations(dot)com or visit the 'News & Press' section on cosmoprofnorthamerica.com.
Cosmoprof North America 2011 is planned for July 24-26 at the Mandalay Bay Convention Center in Las Vegas. For more information on exhibiting or attending, please visit http://www.cosmoprofnorthamerica.com or call 800-557-3356. Cosmoprof North America is a production of North American Beauty Events LLC.
###