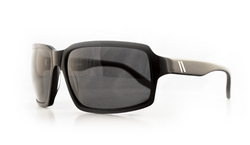 Huntington Beach, Calif. (Vocus) September 28, 2010
Petrol Eyewear is introducing several new driving sunglass styles this fall that will comprise the core of its 2011 collection—styles that continue to blend cutting-edge lens technology within refined, classic frame shapes for men and women.
New to the Petrol lineup are:
Big Easy: A striking wrap-frame sculpted from a 6mm sheet of acetate and hand-polished to a lustrous finish. Available in gloss black or dark tortoise, the Big Easy is the company's first frame to feature a glass polarized Petrol Repelium® lens. While not suited for all sporting activities, polarized glass is sought after by sunglass enthusiasts wanting the highest possible visual acuity behind the wheel. For those desiring a more multi-use sunglass, the Big Easy is also available in a non-polarized CR39 lens version—an ophthalmic grade polymer produced in the same road-enhancing tints and finished with same Repelium coating as the glass lens version. ($180 glass polarized / $120 non-polarized)
Supernova: An oversized, classic navigator shape in a half-rim design. The rimless bottom provides an unimpeded view of your vehicle's gauges while the polarized Repelium lenses combat road glare and enhance depth perception. Finished with flexible spring hinges and adjustable acetate temple tips, the Supernova provides all-day comfort in an attractive shape suitable for men with wider faces. ($150)
Gulfstream and Gulfstream 2: Arguably the hottest look of 2010, the versatile and iconic aviator sunglass shows no signs of waning in 2011. Yet few manufacturers infuse this classic shape with a lens technology that rivals Petrol's. In the redesigned Gulfstream—Petrol's top-selling aviator style—the company offers its new polarized gradient Repelium lens for a high-fashion look with a serious technological underpinning. It's one of the few sunglasses on the market that offers gradient lens fans the benefits of polarization, and the only one that offers Repelium coating. For those seeking a larger aviator frame, Petrol has released the Gulfstream 2, an alloy and acetate stunner with a 62mm lens and an overall frame width of 146mm. ($150)
Verve: Another Petrol favorite redesigned, the Verve combines a heavier-gauge rimwire front with wider acetate temples for a distinct and luxurious look. It's larger than in previous years, and features Repelium lenses in both polarized and polarized gradient variations. ($150)
Manhattan: A low-profile metal wrap frame that cleverly uses a widened acetate temple tip to provide front-to-back balance and comfortable wear. Available in polished gunmetal with grey lens or matte bronze with amber lens. ($150 polarized / $120 non-polarized)
Now available at http://www.petroleyewear.com and authorized retailers, the Petrol Eyewear line includes a variety of high-performance Grilamid/plastic frames along with metal and acetate models. Most styles feature the company's signature Repelium lens, which delivers an ultra-slick surface that resists scratches, smudges, oils, water, fogging and fingerprints. An anti-reflective coating on the inside surface eliminates eye strain-inducing "bounce-back" glare, while Petrol light filtering technology provides 100% protection from harmful ultraviolet rays and damaging, high-intensity visible light. Optically correct and distortion-free, Petrol Repelium lenses come in polarized and non-polarized versions. Petrol driving sunglasses range in price from $120-180 USD and carry a one-year warranty.
Petrol Eyewear is the sunglass of choice for IZOD IndyCar Series stars Ryan Briscoe and Mike Conway; Firestone IndyLights Series racers Pippa Mann and Gustavo Yacaman, GRAND-AM Rolex Series veterans Max Angelelli and Wayne Taylor, and scores of motoring and racing enthusiasts who've discovered the Petrol difference.
About Petrol Eyewear
Established in 2007, Petrol Eyewear is a manufacturer of premium quality polarized driving sunglasses. Headquartered in Huntington Beach, Calif., Petrol is a subsidiary of TSW, a leading producer of alloy wheels with a 30-year history of incorporating race-inspired technology into everyday driving.
# # #