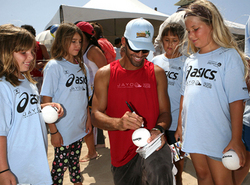 By supporting a balanced ocean environment, Beachhouse.com can help ensure that future generations of vacationers can experience clean oceans and beaches.
Irvine, CA (PRWEB) September 28, 2010
Beachhouse.com is a title sponsor of the 2010 JAYO Invitational Pro Am Volleyball Tournament, which will be held on October 2, 2010 near the Long Beach, CA marina at Rainbow Lagoon Park. Heading up the Beachhouse.com volleyball team are pro surfers Mary Osborne and James Pribram.
This year, the 8th annual JAYO Invitational is benefiting 2 charities; Adopt-A-Shark and AVP Cares. Adopt-A-Shark focuses on the importance of the various eco-systems in our oceans, namely the sharks. AVP Cares, the charitable arm of the professional beach volleyball tour, works with disadvantaged youth to advance their educational and social welfare opportunities. A slew of celebrity participants will join Osborne and Pribram, including Olympic gold medalist Kerri Walsh, actor David Arquette, supermodel Kirsty Hume, and many more.
Sponsoring the JAYO Invitational was a natural fit for Beachhouse.com. "Enjoying pristine beaches is what our vacationers have come to expect when booking a property on our site," said CEO of Beachhouse.com, Scott Hinkley. Beachhouse.com also believes in educating children about the importance of conserving and protecting our oceans and beaches. "By supporting a balanced ocean environment, Beachhouse.com can help ensure that future generations of vacationers can experience clean oceans and beaches," said Hinkley.
Pribram, who attended the 2009 JAYO Invitational, is excited about participating in the event again. In addition to the environmental work he does through his own non-profit organization, Eco Warrior, Pribram believes that bringing people together while raising awareness and looking for better solutions gives us hope in changing things for the better. "Whether it's attending a city council meeting or a Surfrider meeting, change only happens when we begin participating and letting our voices be heard," said Pribram.
Osborne is no stranger to environmental work. This past summer she and Pribram traveled to the Gulf Coast to raise awareness of the effects the oil spill is having on our oceans and beaches. "With everything that is happening environmentally, it can be overwhelming trying to figure out where to start to help," said Osborne. "If we all try to make a few simple changes in our lifestyles, it can really help."
Osborne is also excited to make her JAYO debut on the Beachhouse.com team. "I love that site!" said Osborne. "I am a huge fan of vacationing in Cabo, Mexico – It's an easy, quick flight and before you know it, you're on the beach surfing." Osborne used to play volleyball in high-school and clubs and grew up with a sand court in her parent's yard. "Skills or no skill, either way, I'm sure I will be laughing, smiling and having a blast," said Osborne.
Beachhouse.com, about to celebrate their 10th year in business, is the leading place on the Internet focused entirely on listing beach house properties available for rent around the world. Beachhouse.com connects vacationers and property owners/managers together online. For vacationers, Beachhouse.com provides an easy-to-navigate, online directory listing thousands of beach front properties. For homeowners and property managers, Beachhouse.com provides direct access to serious vacationers around the world.
For more information about Beachhouse.com or their participation in the JAYO Invitational, please contact Tarrah Graves at (949) 863-0050 or Media(at)Beachhouse(dot)com, or visit them on Facebook.
# # #