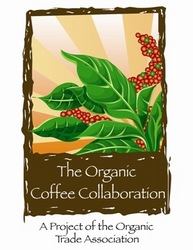 Restaurants' increased interest in organic coffee mirrors the increasing presence of organic fruits and vegetables in restaurants of all kinds across the United States!
Greenfield, MA (Vocus) September 28, 2010
Organic coffee has become the beverage of choice in food service establishments ranging from highway convenience stores to fast-food chains. It is also offered in college dining halls, the National Zoo and Smithsonian cafeterias, destination spas, and some of the nation's finest restaurants. According to the Organic Coffee Collaboration, a project of the Organic Trade Association (OTA), the greater availability comes as consumers increasingly adopt all things "green," and roasters work with restaurateurs to create special blends for a wide variety of demanding palates.
The Collaboration features leading firms from Vermont to California and from Florida to Canada. Participants include Beantrees Organic Coffee Company (Sacramento, CA), Caffe Ibis (Logan, UT), Chiapas Farms (Austin, TX), Elan Organic Coffee (San Diego, CA), Control Union Certifications (Plantation, FL) , Equator Coffees & Teas (San Rafael, CA), Golden Valley Farms Coffee Roasters (West Chester, PA), Green Mountain Coffee (Waterbury, VT), S&D Coffee (Concord, NC), Sun Coffee Roasters (Plainville, CT), and Swiss Water Decaffeinated Coffee Company (Burnaby, BC, Canada. These participants represent the full organic coffee supply chain spectrum, from sourcing coffees at origin to roasting, decaffeinating, and brewing them.
In an increasing number of cases, restaurants are offering organic coffees on menus akin to wine lists. They also are becoming the choice of college-branded coffee offerings. In other cases, the roaster or retailer has decided to use organic coffee to increase the quality of its offerings without telling consumers.
The response has helped drive the North American organic coffee market to more than 1.4 billion dollars in 2009, according to a recent study by leading market analyst Daniele Giovannucci. The average annual growth rate of 21 percent for organic coffee documented by Giovannucci in the five years from 2004 to 2009 dwarfed the estimated one percent annual growth of the conventional coffee industry and continued to grow despite the recession.
And no wonder – organic coffee has become synonymous with quality. According to the results of Cup of Excellence cuppings coordinated by the U.S.-based Alliance for Coffee Excellence, organic coffees were from several of the winning farms in five countries in 2009: Bolivia, Brazil, Costa Rica, El Salvador, and Nicaragua. In fact, the highest ranking attained all year was for organic coffee from the Bolivian farm Agrotakesi SA, earning 93.96 points, more than a full point above the next highest ranking coffee that year.
According to OTA's Executive Director Christine Bushway, "Restaurants' increased interest in organic coffee mirrors the increasing presence of organic fruits and vegetables in restaurants of all kinds across the United States!"
Examples of roasters and retailers seeing their organic coffee sales increase in today's restaurant world include:
Beantrees' super premium organic coffees are served at the eight ultra-posh Central Market espresso bars throughout Texas, as well as exclusively at the UC Davis espresso Bar. Beantrees was voted the #1 coffee in Davis, California, for 2010. Also, Beantrees was served backstage in over 25 countries on The Police 2009 world tour.
Caffe Ibis organic coffee fine dining customers The Canyons in Park City and North Ogden's Zucca's Trattoria are being joined by Park City's High West Distillery, SLC's Chow Truck Asian haute cuisine, local rave Red Iguana, and design winner Vento's in redefining the new organic, Fair Trade and "Bird-Friendly" coffee customer.
Control Union Certifications (CU) is a leading certification body with offices in more than 50 countries certifying coffee from farm level to food service. In North America, CU services include organic and Fair Trade inspections for coffee roasters and distributors including UTZ chain of custody audits.
Equator Coffees & Tea's restaurant partners are increasingly offering their patrons certified organic coffees emphasizing quality and sustainability versus high yield. It has created a special certified organic Jardinière blend for Jardinière restaurant in San Francisco and a blend emphasizing organic Ethiopian Sidamo for Per Se in New York City.
Golden Valley Farms Coffee Roasters offers dual-certified organic and bird-friendly coffee at more than 400 food service operations ranging from traditional eateries to convenience stores, diners, and coffee shops, as well as the National Zoo cafés, which have seen sales double in the year since converting from conventional coffee.
Green Mountain Coffee® supplies organic coffee to Bruegger's Bakery Cafés, national parks (through Xanterra Parks & Resorts), and hundreds of colleges and universities nationwide. It also supplies Newman's Own® Organics coffee to over 600 McDonald's restaurants in the Northeast U.S.
S&D Coffee provides organic and other sustainable coffees to 600 convenience stores, museums cafés, and college and corporate campuses nationally. Five Smithsonian Institution museum cafés along with restaurants nationwide are featuring its organic, Fair Trade, and Bird Friendly ® blend, which has received praise for its quality.
Sun Coffee Roasters provides premium Fair Trade organic coffees to colleges and universities, serving numerous dining facilities, campus cafés, and campus restaurants with a range of custom coffees to suit every palate.
For more information on the Organic Coffee Collaboration, a project of the Organic Trade Association, see http://www.ota.com/organic_and_you/coffee_collaboration.html.
Contact: Sandra Marquardt
301-592-0077, smarquardt(at)onthemarkpr(dot)com
# # #