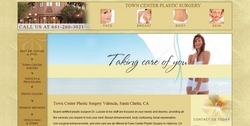 Valencia, CA (Vocus) September 28, 2010
According to the study conducted by the American Society of Aesthetic Plastic Surgery (ASAPS) outlining cosmetic procedures performed in the United States, of the nearly 10 million surgical procedures performed in 2009, non-surgical procedures accounted for 85% of the total. Dr. Marc Lussier, a board-certified plastic surgeon in Valencia, CA, says he is preparing for the approaching winter season in light of these recent findings, as well as the typical seasonal increase in facial treatments, such as facial rejuvenation in Santa Clarita, as summer comes to a close.
At Town Center Plastic Surgery, Dr. Lussier offers a number of non-surgical facial rejuvenation procedures, including BOTOX® Cosmetic and the Liquid Facelift with dermal fillers. One non-surgical procedure in particular that Dr. Lussier says he expects to see an increase in as fall approaches is facial fat grafting in Valencia, which can be used as an alternative to other injectable fillers. By utilizing less-invasive fat grafting procedures that cost less and require minimal recovery time, Dr. Lussier says he can sculpt and re-contour his patients' lips, cheeks, and face to enhance their youthful appearance.
While nonsurgical facial rejuvenation procedures are on the rise, procedures such as eyelid surgery, or blepharoplasty in Santa Clarita, still account for 15% of the nearly 10 million cosmetic procedures performed in 2009. With other surgical options available at Town Center Plastic Surgery, such as facelifts, brow lifts, and even neck lifts, Dr. Lussier says he offers a comprehensive variety of facial rejuvenation procedures to satisfy any patient's needs. Regardless of the type of procedure his patients desire, Dr. Lussier says he customizes each procedure, whether surgical or not, with consideration for the ultimate safety of each patient, in pursuit of their facial rejuvenation expectations with the end of summer fast-approaching.
About Dr. Lussier
Dr. Marc Lussier earned his medical degree from the University of Minnesota School of Medicine. He completed his General Surgery Residency at the New York University Medical Center, and his Plastic Surgery Residency at Baylor College of Medicine. Dr. Lussier also completed a Hand Microsurgery Fellowship and a Post-Doctoral Fellowship at the University of Southern California. He is a Diplomate of the American Board of Plastic Surgery, and is a member of the American Society of Plastic Surgeons, the American Society of Aesthetic Plastic Surgery, and the American Society for Surgery of the Hand, among many others.
Dr. Lussier and his Town Center Plastic Surgery practice can be found at 24510 Town Center Dr. Suite 180, in Valencia, CA 91355, and can be reached at (661) 260-3021 or http://www.lussiermd.com/
###