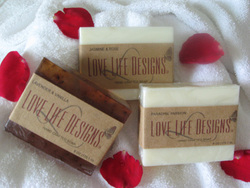 "The Soy Melts are AWESOME! I want to purchase some melts for my friends. I'm sure they would love them as well." ~Maria Howell~ Actress, The Color Purple
Suwanee, GA (PRWEB) September 28, 2010
Founded in 2003 to afford on-the-go couples the opportunity for intimate moments alone, Atlanta-based Love Life Designs, LLC announces a new Natural Handmade Organic Bath and Body line. Love Life Designs is committed to the evolution of their brand and the ongoing commitment to keep the flame of passion always burning. Love Life Designs, romance expert and founder Mary Chatman expands the mood-setting company's list of offerings to include its newest creation, "Body Love" by Love Life Designs. The line was originally created exclusively for Love Life Designs romance packages to fulfill the need for a more luxurious bath experience during a hotel overnight stay. The products are now available online for individual purchase at http://www.lovelifedesignsllc.com
All of the products are handmade using natural ingredients like 100% fresh goat milk, rich pure Shea Butter, and Vegan Plant Oils that create healthy looking skin. The yummy highly sought after sugar scrubs are made from Natural Cane Sugar and infused with ingredients like Pure Lavender and real Lavender buds with a hit of fresh Vanilla. Chatman says "our clients slather on the exotic Body Butter and fall in love with it!" The texture is buttery, water free, and glides on smooth. The massage oil is a favorite and often requested with a Love Life Design package. It is exquisite and doubles as a luxurious body oil. Improving upon their sought-after romance packages, which include everything from carefully selected products to delivery and setup, Love Life Designs revamps their offerings with these expertly chosen products and guarantee to surprise, excite, and impress clients. In addition to their popular romance packages, Love Life Designs offers custom occasion themed packages to help couples celebrate romantic holidays such as Valentine's Day, an anniversary or a wedding proposal, and honeymoon nights. Fabulous holiday getaways for Christmas and increasingly popular Staycations are also on the list for couples. Love Life Designs product list also includes an eco-friendly package for couples looking to lower their carbon footprint, while still indulging in the luxury of romantic pampering. The package includes items like the popular aromatic soy melts for burning in an oil burner, organic chocolates, silk rose petals, and a linen spray made exclusively to freshen up hotel linens. It's non-oily and non-staining with a delicate yet noticeable scent and can be used on your body, hair or clothing. These are just a few of the items in the eco-friendly romance package.
Beyond their occasional romantic packages, Love Life Designs understands the importance of creating permanent intimate spaces for couples and lends their expertise to transforming ordinary bedrooms into relaxing and sensual retreats. Focusing on the five senses, Love Life Designs highlights warm colors, feel-good fabrics, and relaxing scents to set the mood each and every night. Scents like Jasmine and Sensual Rose which is sexy and intoxicating, or relaxing Lavender and Vanilla made with organic Lavender Buds and Vanilla Essential Oil and finally Paradise Passion, a tropical blend of Passion Fruit, Pomegranate and Guava to evoke the feeling of tropical getaways and warm beaches.
"Whether we are creating a romantic celebration for a special anniversary, planning an unforgettable honeymoon vacation or introducing the passion into an existing home design, Love Life Designs is focuses on the intimate moments that make life special," explains Mary. "Often couples don't have time to plan romantic rendezvous especially men, and that's where Love Life Designs is able to help."
Your personal romance concierge, Love Life Designs is available for romantic gestures big and small. For product updates and specials, daily romance tips, and special gestures, you can follow Love Life Designs on Twitter at twitter.com/LoveLifeDesLLC. To learn more about Love Life Designs, visit: http://www.lovelifedesignsllc.com.
###