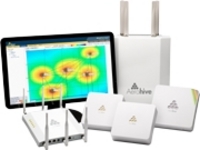 "We decided on Aerohive Networks," said Ruperto Patiño UNAM Faculty of Law director. "The Aerohive network would provide the power we needed and it would be easy to administer with our tight IT resources."
Sunnyvale, CA (PRWEB) September 28, 2010
Aerohive Networks, creators of the award-winning cooperative control wireless LAN (WLAN) architecture, today announced that National Autonomous University of Mexico (UNAM, Universidad Nacional Autónoma de México), one of the largest one-campus universities in the Americas, has selected Aerohive's innovative WLAN solution to provide its Faculty of Law with highly mobile, secure and ubiquitous wireless access throughout the law school's 30,000 square meter campus. The Faculty of Law serves 1,600 academics and approximately 15,000 students.
News Facts

The Faculty of Law's Digital Faculty initiative serves as the communications backbone to support collaboration among students, faculty, and staff anywhere at any time.
Aerohive's robust architecture has made it possible for students and faculty to get the most out of their new WLAN. Today the network supports the fully collaborative communications and sharing of documents initially envisioned. Students and faculty use the document portal daily; they are watching the available TV channels, and utilizing digital communication technologies, such as Skype.
Aerohive's cooperative control architecture with its unique, stateful state-of-the-art high availability and path resiliency and mesh redundancy ensures that the traffic always flows - without the need or expense associated with deploying a redundant infrastructure. The architecture's distributed intelligence and best-path forwarding ensure that the data path is always optimized for the lowest latency possible.
The Aerohive design makes it possible for many HiveAPs to self-organize into groups, dubbed "hives," that share control information to provide functions such as fast layer 2/layer 3 roaming, cooperative RF management, as well as security and mesh networking.
Aerohive's Cooperative Control WLAN architecture provides all of the benefits of a controller based WLAN, yet is more reliable and easier to deploy – all at a lower cost and with higher performance than traditional WLAN architectures.
To read the full UNAM case study, please visit http://www.aerohive.com/resources/casestudy/UNAM.html
For more information on Aerohive's HiveAPs and HiveManager, please visit http://www.aerohive.com/products/overview.html
Comments
"We decided on Aerohive Networks," said Ruperto Patiño UNAM Faculty of Law director. "The Aerohive network would provide the power we needed and it would be easy to administer with our tight IT resources."
"We currently have 1,000 concurrent users during our most demanding times. And, as new programs are rolled out, such as the lending of computers to students, we'll have even more users hitting the network," says Patiño. "Aerohive has handled everything we've thrown at it."
"The Digital Faculty initiative has been a great success, and the directors of other faculties are now talking about how to extend the use of the wireless network to their facilities," says Patiño.
About Aerohive Networks
Aerohive unleashes the potential of enterprise Wi-Fi, enabling customers to stop buying copper, to move applications to the air, and to maximize workforce productivity. The company's award-winning cooperative architecture eliminates costly controllers, saving money and providing unprecedented resiliency, up to 10X better application performance, and an opportunity to start small and expand without limitations. Aerohive was founded in 2006 and is headquartered in Sunnyvale, Calif. The company's investors include Kleiner Perkins Caufield & Byers, Lightspeed Venture Partners, and Northern Light Venture Capital. For more information, please visit http://www.aerohive.com or call 408-510-6100.
###