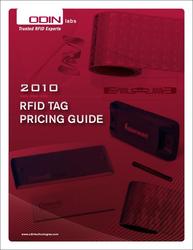 Ashburn, VA (PRWEB) September 28, 2010
ODIN, the leader in RFID software, solutions and benchmarking for global organizations, today released the free 2010 RFID Tag Pricing Guide™. The release marks the second annual installment reporting tag costs for end users and the results are surprising. Although many RFID tag prices remained flat, some segments actually increased for the first time. You can access more information and download a FREE copy at:
RFID Tag Pricing Guide Free Download
"RFID tag cost data is not widely available. ODIN published the second annual RFID Tag Pricing Guide™ as a service to end users who need tag cost data to make business decisions. To help better disseminate the information, ODIN has made the report available as a free download from our website," commented ODIN's Bret Kinsella.
Harold Goldzung who leads sourcing at ODIN acknowledged, "Not all RFID tags are alike. They have different features, different materials and therefore different cost structures. We never want an end user to put his project in jeopardy because he used incorrect tag cost data. The RFID Tag Pricing Guide™ is the first step in understanding RFID tag costs and ODIN Labs provides it as a free download."
Mr. Kinsella added, "The RFID tag industry has had an intriguing year marked by innovation, silicon shortages and a rapid increase in demand. In addition to the tag cost data, the pricing guide also explains the tag industry market dynamics for 2009-2010 and provides insight on what to expect in 2011. Tag prices are an important element of RFID ROI and we hope to provide greater clarity for users with this report."
About the 2010 RFID Tag Pricing Guide™
The RFID Tag Pricing Guide™ is the first and only independent source for standard RFID tag pricing and highlights key variables that drive tag cost. It is designed to educate buyers and facilitate better purchase decisions. The Guide complements ODIN's RFID Benchmark Series™ which is the industry standard for head-to-head, scientific, RFID equipment and component performance. This issue of the pricing guide focuses on the cost for passive UHF RFID tags in a variety of form factors. Some of the information provided in the guide includes:

What do RFID tags cost now?
Myths about RFID Tag Pricing
2010 Tag Pricing for label tags
2010 Tag Pricing for specialty tags
Interpreting the price results
Recent tag industry announcements of note
Other Resources on RFID Tags
To download your free copy: http://www.odintechnologies.com/rfid-benchmarks-tag-pricing-guide
About ODIN technologies
ODIN is the leader in RFID solutions for healthcare, aerospace, financial services, and government agencies, and is the only company to produce a true operating system for RFID devices, EasyEdge. ODIN's EasyEdge™ software reduces implementation and support cost and has been successfully used at dozens of companies across more than 350 sites worldwide to ensure accurate and scalable RFID implementations. Global corporations on five continents leverage ODIN's expert engineers and patented RFID software to achieve accuracy, speed, and visibility for their RFID deployments. In addition to packaged solutions, implementations, and engineering, ODIN publishes the RFID Benchmark Series™, the industry's first and most referenced head-to-head performance analysis of RFID equipment. ODIN serves clients from offices in Ashburn, Virginia, Dublin, Ireland and Budapest, Hungary. http://www.ODINtechnologies.com
###