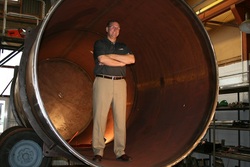 We truly achieve the triple point of sublimation and safeguard the longevity of our clients' books and valuable papers.
Allentown, PA (PRWEB) September 29, 2010
Rapid Refile is pleased to announce the launch of its new vacuum freeze dryer, the most sophisticated document restoration technology of its kind in the United States.
With precision settings, a monthly capacity of 500-2,000 cubic feet and a weight reduction monitoring system to prevent over-drying, the vacuum freeze dry chamber significantly boosts the document recovery company's capacity to restore large volumes of water damaged books, with no warping or distortion.
Vacuum freeze drying is the restoration method of choice for books, clay-coated paper and irreplaceable documents, which can suffer secondary damage if exposed to other document drying methods.
"Our vacuum freeze dry chamber is not to be confused with the glut of thermal vacuum dryers in the market, which can cause warping of paper and other material," said Joe Perko, director of field services for Rapid Refile. "We truly achieve the triple point of sublimation and safeguard the longevity of our clients' books and valuable papers."
The new vacuum freeze dry chamber's chief features include:
Controlled drying. Water damaged documents are blast frozen to a temperature of 0 to -20 degrees Fahrenheit. Inside the chamber, the ice is transformed directly to a gaseous state, bypassing the melting stage through manipulation of temperature and atmospheric pressure. The chamber's settings vary to allow faster drying for paper files or slower, more controlled drying for rare books.
Increased volume. The vacuum freeze dry chamber's substantial capacity not only allows a much faster turnaround on document recovery efforts in the United States, but it can help lower project costs by processing large volumes of low-priority paper files.
Enhanced monitoring. Instead of relying solely on probes to signal completion of the document drying process, the chamber is equipped with an innovative scale system that monitors weight reduction during each cycle. As the rate of reduction slows, Rapid Refile's document recovery experts are alerted to the cycle's completion.
"The scale system reduces secondary damage from over-drying, which is a major concern and issue for libraries, museums and historical societies," Perko said. "We offer archivists, conservators and librarians a system that supports and advances their mission: to promote the longevity of their collections."
About Rapid Refile
Rapid Refile is a U.S.-based document restoration company headquartered in Allentown, PA. We specialize in the salvage and partial or complete recovery and restoration of hard copy critical records and electronic media. Our experienced staff has over 25 years of experience managing moisture control and document recovery services for government agencies, universities, museums, libraries and other organizations. Our disaster recovery specialties include rare book restoration and mold remediation services.
For more information about Rapid Refile, visit http://www.RapidRefile.com
# # #