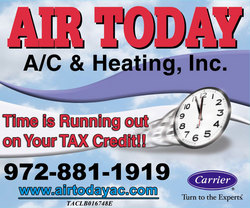 Time is running out on YOUR TAX CREDIT opportunity and cold weather can be rough, so don't delay before making sure your system is ready for the change.
Plano, TX (PRWEB) September 29, 2010
When it comes to home comfort, no one wants to wait. No one wants to pay high prices for a constantly running A/C or heating system and no one wants to have to second guess if they are getting what they pay for. Whether it is 100+ degrees or freezing cold outside, the consumer wants to be comfortable without having to continue to pay high electric bills. Air Today A/C & Heating, Inc. owner Danny Feemster offers over 30 years experience in the HVAC industry and is here to make sure customers get everything they are looking for in a reliable A/C & Heating company.
Air Today is very competitive with their prices within the HVAC industry. Currently offering up to $4,500 in rebates including the $1,500 government tax credit that is still currently available. In addition to the rebates and tax credit, Air Today is offering $200 cash back when a customer refers a friend, family member or colleague to Air Today and they buy a complete system.
There are many makes, models, SEER ratings out there to choose from, such as: Carrier, Rheem, Trane, Lennox, Amana, Goodman etc., so when a consumer begins their research, they get information overload. To solve this Air Today is making it easy for the consumer to find information by using the topic buttons on their website. This makes it easier for buyers to determine what they are looking for and educates them at the same time.
In order to assist customers in their search for a High Efficiency and cost effective Air Conditioning and Heating system, Air Today brought on Chuck Norton as Sales Manager. Mr. Norton brings over 35 years experience to Air Today and has worked all over the country establishing many relationships throughout the industry. Chuck has already established a solid and very satisfied clientele right here in the Dallas & Plano area. Air Today's new billboards will begin showing up in strategic intersections around town. There are two locations already secured in Plano and North Dallas. Norton says, "Time is running out on your tax credit opportunity and cold weather can be rough, so don't delay before making sure your system is ready for the change."
The service area is wide, covering North Dallas, Richardson, Plano, Allen, McKinney, Frisco and many other suburbs of Dallas. Other A/C companies offer Plumbing and electrical, however Air Today focuses solely on Air Conditioning and Heating in order to provide their customers with top-notch, professional service from our highly trained, technicians as well as Air Today's discounted pricing. In addition, Air Today employs only Texas registered and background checked technicians.
Air Today also offers year round Planned Service Maintenance that gives customers piece of mind by making sure systems are ready for start up in the fall and start up in the spring. Air Today A/C & Heating, Inc. has won the Angie's List Super Service Award for the last three consecutive years.
Speaking of tune-ups, now that Fall is here, the weather has already started to change and Winter is just around the corner. Everyone is going to be thinking of their Furnaces, Air Handlers, Evaporator Coils and Heat Pumps. Everyone will be asking themselves "Is my system ready for operation?" OR "Is it safe to turn on?" Air Today reminds customers to always change air filters and maintain their equipment regularly. So many people forget to maintain their a/c & heating system regularly but everyone seems to have a sticker in the top left hand drivers side windshield in their car to remind them when to change their oil...right?
# # #