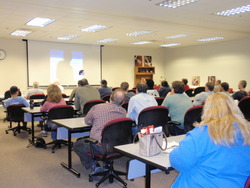 I address the culture of debt in our society and the habit of spending
Menlo Park, CA (PRWEB) September 28, 2010
Our Road Trip to Financial Wellness
If you think about money management like a roadway on a map, very few people would consider it a straight freeway from point A to point B. Instead, managing money – especially in the past few years – has been marked by twists and turns, steep hills, potholes and detours.
Dealing with financial bumps in the road isn't easy. Financial stresses at home can lead to problems at work, including lower productivity and increases in absenteeism.
That's why Tyco Federal Credit Union offers roadside assistance for Tyco Electronics employees in the form of its financial literacy seminar series.
"Navigating the New Economy is Tyco Federal Credit Union's three-part series that includes financial stress management, understanding your credit report and credit scores, and creating a budget and sticking to it," says Jason Vitug, Vice President – Membership Development, Tyco Federal Credit Union. "In one hour, our seminar addresses financial stress head on. Most people are afraid to talk with anyone including their spouse about their financial stress. It's not a great situation to be in and that stress is carried over to the workplace and it lowers employee morale. Our seminars are aimed at starting the conversation because financial stress affects everyone, and we can help each other by sharing success stories and resources."
Vitug emphasizes that the more seminar participants learn about the basics of money and finances, the more they can build a solid foundation to make better financial decisions. "I address the culture of debt in our society and the habit of spending," Vitug says. "I state it is OK to apply for loans but it's important to ask questions, read the fine print and look at the total cost of borrowing. Financial decisions today can drastically affect financial well-being in the future. I encourage employees to take more ownership of their spending, reach out to resources available and regain control of their finances."
Linda Grant, Tyco Electronics Wellness Captain adds, "Offering financial education during a time when the country started hearing the words 'economic crisis' has been a true benefit – educating employees and alleviating their fears, worries and concerns. Jason Vitug brought insight, enthusiasm and confidence with his Financial Seminars. I spoke to an employee recently who used what Jason taught to develop a plan of action with his mortgage lender and help prevent him from losing his home. The employee said he would never have known to make those calls if he hadn't attended the seminars. Learning about a spending plan or how credit scores work provides great value and an opportunity for employees to feel more in control in times of uncertainty."
Navigating the New Economy seminars have been attended by more than 7,000 Tyco Electronics employees nationwide in more than 30 locations since 2009. "It is a widely acclaimed and requested seminar series," Vitug says. "In fact, Tyco Electronic rewards employees for attending. They receive 25 points equivalent to $25 for the healthy rewards program associated with their medical plan. The seminars are offered at no cost to our sponsors as part of the benefit we offer as their credit union."
Tyco Electronics and Tyco Federal Credit Union are taking the lead in the nation by bringing financial literacy to the workplace and addressing the needs of employees. The financial seminars are offered to employees on all shifts.
"We've done seminars as early as 5 a.m. and as late as midnight," Vitug says. "We understand that our outreach should not be limited to those who work from 9 to 5. We have a dedicated staff to ensure everyone can participate, and the results have been amazing." Connie, an employee from Middletown, PA stated, "I thoroughly enjoyed the seminar. It was quite informative and a nice presentation. This should be attended by all employees as part of our wellness training."
Learn More at http://www.TycoCU.coop
Tyco Federal Credit Union is an independent, not-for-profit, financial services cooperative with more than 7,300 member-owners worldwide and assets of $105 million. The credit union field of membership comprise of Tyco International, Tyco Electronics and Covidien employees and their families. Tyco Federal Credit Union is an independent financial services cooperative and is not affiliated with Tyco International, Tyco Electronics, Covidien, or any of their current or former subsidiaries or affiliates. For more information about Tyco Federal Credit Union and its member services, visit http://www.TycoCU.coop.
###