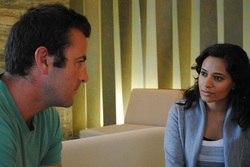 The combination of yoga with counseling has opened new roads of healing for those recovering from anxiety, stress, depression, other mood disorders or phase of life issues
New York, NY (PRWEB) September 28, 2010
Vijayta Szpitalak, a New York State Licensed Mental Health Counselor and 200 Yoga Alliance Certified Instructor, has launched Asiam Healing, offering Yoga Therapy and Wellness Therapy in New York, NY. The launch of Asiam Healing, which combines the two modalities of counseling and yoga together to create a unique and holistic approach, servicing both the mind and body at once, is one of the first of its kind serving the New York community.
According to Vijayta Szpitalak, Asiam Healing blends eastern philosophies with western approaches to develop a dynamic wellness experience tailored specifically to each individual through yoga postures and self exploration. Vijayta comments on her motivations for the establishment of Asiam Healing - "I have often noted in my work in both the mental health and yogic studies fields that people feel their emotions in their body," said Vijayta, "when we are stressed, we can feel it in our shoulders or perhaps by the tension in our foreheads or simply the tense feeling in our bodies. As a purely talk-therapy practitioner, it only felt like I was tending to half the self by engaging in traditional therapy, the combination of yoga with counseling has opened new roads of healing for those recovering from anxiety, stress, depression, other mood disorders or phase of life issues."
Vijayta points to increasing amounts of research on the effectiveness of the combination of yoga with counseling – "A study published in the Harvard Health Publications states the following about Yoga and clients struggling with Mental Health: The 113 participants included patients with bipolar disorder, major depression, and schizophrenia. After the class, average levels of tension, anxiety, depression, anger, hostility, and fatigue dropped significantly. The study goes on further to state that Yoga may help with the recovery of Post Traumatic Stress Disorder."
The services offered by Asiam Heaing can benefit anyone and everyone according to Vijayta – "From working professionals who may often feel stressed or anxious, to any individual who may sometimes feel low or is looking for a deeper connection to themselves. Yoga therapy can also be an effective therapeutic tool for anyone who has been feeling stagnant with the normal means of talk therapy," says Vijayta. Asiam Healing's Yoga therapy sessions are unique from other Yoga therapy in that breath and yoga postures may be visited while going through a talk therapy session, but afterward, the client has a unique yoga routine specifically designed to meet their mood and physical fitness goals.
Vijayta of Asiam Healing believes the therapeutic practices should be performed in an environment that promotes openness and confidence for her clients, her office is located in Tribeca, Manhattan and average single / group sessions can be structured to run in as little as 45 minutes to as long as an hour and half weekly for talk / yoga therapy. She offers a sliding scale for those individuals who need it and also offers health insurance reimbursements.
About Vijayta Szpitalak, LMHC, 200 RYT
Vijayta's mental health training began at Columbia University with graduate studies in Counseling Psychology, where she obtained her M.A. and Ed.M. She has counseled a diverse set of New York based individuals and families through university programs and a variety of specific public and private practice institutions. Throughout her work, she has focused on empowering people to live a fully aware, mindful and conscious life to experience each moment in the present and has helped people achieve a greater sense of mental balance in their lives. She received her yoga teacher training from a well regarded studio in Manhattan that specializes in Vinyasa Yoga and went on further to study and train others in yoga techniques that promote physical fitness compatible with mental stresses and issues.
Vijayta received her undergraduate training from The University of Texas in Business Economics and worked for many years in the fast paced New York Finance industry prior to making a career change into mental health. Her previous experience of working on Wall Street gives Vijayta much insight to the extraordinary stresses and pressures of working in the corporate world.
Vijayta's unique blend of counseling and corporate experience gives her the knowledge, skills, and insight into a variety of situations and concerns that an individual may be faced with in a stressful city such as New York. Vijayta is affiliated with several professional associations such as the American Counseling Association, International Association of Yoga Therapists, and the Yoga Alliance.
Internet Citation:
Yoga for anxiety and depression. (2009, April). Harvard Health Publications. Retreived from: http://www.health.harvard.edu/newsletters/Harvard_Mental_Health_Letter/2009/April/Yoga-for-anxiety-and-depression
# # #