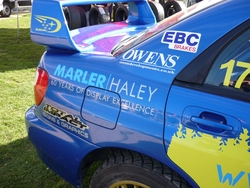 Marler Haley's contribution has given our stand a fantastic professional appearance and we've had thousands of people to come meet us
(PRWEB) September 29, 2010
Rally Day on 18th of September at Castle Combe attracted around 10,000 visitors and is one of the main events for rally enthusiasts this year. Joining forces back in June, Marler Haley supplied Extreme Rally with a large A-frame banner, Panorama, two large outdoor flags, Freedom, and three outdoor PCV table cloths for their stand and hospitality areas at Rally Day.
Along with the portable display equipment, Extreme Rally attended the event with a collection of 9 Marler Haley branded rally cars consisting of Subarus and Mitsubishis. The large feature stand allowed them to have 4 cars on display with the rest out on the circuit and rally stage.
Laura Snell, Extreme Rally commented; "Marler Haley's contribution has given our stand a fantastic professional appearance and we've had thousands of people to come meet us and find out what Extreme Rally is all about".
As part of the event, Extreme Rally offered passenger rides to visitors for £30. This included twice around the famous Castle Combe circuit or twice around the twisting rally stage. Reaching speeds of up to 150mph through the fastest bits of the track, Extreme Rally employs training and qualified drivers for this kind of driving experience.
As the only company at Rally Day to offer passenger rides Extreme Rally received an enormous amount of coverage and visitor focus. "We took 140 visitors out round the tracks, that's a lot of tyres and adrenaline!" comments Martin Snell, Managing Director of Extreme Rally.
Motorsport legends, Stig Blonquist and Russel Brooks attended the event along with Tony Mason and Extreme Rally had a chance to catch up with them during the day. Along with the organisers, Tony mentioned that the effort put into the stand at Extreme Rally was "just brilliant".
"We're really looking forward to the next event and taking our Marler Haley displays with us. They fit perfectly in the truck and look amazing amongst the cars to give us real marketing reach" concludes Martin Snell.
###