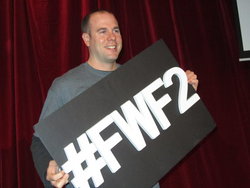 At no other time have so many genuinely successful exponents of internet marketing come together in a teaching environment
(PRWEB) September 30, 2010
September 2010 saw the elite of the internet marketing world descend upon Sydney, Australia, to be guests at James Schramko's most recent high level internet marketing training, FastWebFormula2.
Two hundred participants from Canada, the US, UK and Asia, along with many Aussies, were delivered three days of hard-hitting, up-to-the-minute strategies designed to put their online businesses on steroids.
James discussed the business of internet marketing, about how knowing your market and leveraging this knowledge was one of the biggest keys to success. That several members of the Market Samurai keyword and niche research team were present was testament to the importance of careful planning before implementation.
Domaining and Site Flipping
Domaining is perhaps one of the hottest niches in the industry, and no less than three guests spoke to this topic. Australian internet pioneer, Simon Johnson shared priceless information on how to find, evaluate, buy and manage websites and domains. Englishman Kenny Goodman discussed strategies for renovating and flipping (reselling) domains, while David Jenyns gave great insights into how to determine the value of a website. (He also revealed what he believes will be the next red-hot market in domains.)
American Allstars
One of the biggest draw cards to FastWebFormula2 was the man often described as 'the most ripped off copywriter in the world', John Carlton. John doesn't speak publicly very often, preferring to share his techniques and strategies with those in his mentoring groups. But travel from the US to Australia for this event he did, and those fortunate enough to hear him not just discuss, but demonstrate, simple copywriting techniques, were spellbound.
Cory Boatright dominates the real estate investing online niche, and discussed how others could use his strategies to do so in their own niches.
Brian Johnson demonstrated the strategies that he and Rich Scheffren, have implemented to get results for their company, Strategic Profits, of which others mostly dream.
Wordpress Queen, Leanne King
The platform of choice for internet marketers and bloggers is without doubt WordPress, and Leanne King has been crowned the Wordpress Queen in recognition of her standing in the WordPress community, and of her 900 page book on the topic which has for many become their WordPress 'bible'. Leanne previewed her Mindmap for Wordpress implementation and leverage - and revealed plugins and tools that she uses, and in many cases, had created, for her use.
Leanne certainly left the audience wanting more, and there is no doubt that she will feature more prominently in a future FastWebFormula3, and indeed other international internet events.
SuperFastResults Mystery Man Exposed
Schramko operates a professional internet marketing forum, SuperFastResults, with an up-until-FastWebFormula2 partner known only as 'Andy G'. Andy was revealed as Swiss affiliate marketing aficionado, Andy Grand - and the generous way he shared his strategies made him a firm favorite of the fast-note-taking participants.
DVD Opportunity
At no other time have so many genuinely successful exponents of internet marketing come together in a teaching environment created by James Schramko in FastWebFormula2. Realizing that not everyone could get their hands on a ticket, and recognizing that traveling to Australia was not possible for many others, Schramko invested in a professional film and editing crew to record the whole three-day event.
These DVDs of FastWebFormula2 can now be pre-ordered at a special price for a limited period only. This could very well be the only opportunity to see so many business and internet marketing experts of this calibre share their real, proven, strategies for success.
FastWebFormula2 DVDs many be ordered at: http://www.fastwebformula2.com
About James Schramko:
James Schramko is a Sydney based Internet Marketer who fired his boss in May 2008. Since then his internet marketing business has grown exponentially. James has not just mastered the essential skills you need to be a success on the internet, but he is applying them in innovative ways that have skyrocketed him to international renown.
Before developing his own information products and internet marketing tools, James started making money on the internet in a way we all can by selling other people's products as an affiliate often earning a high commission per sale, without having a product, or the responsibility of stocking and delivering it.
James continues to developed his suite information products and automated profit systems that are in demand by the top internet marketers around the world (they now call him for advice!). In so doing he indulges his passion for product development and innovation, and mentoring students in high-level and ethical internet marketing.
###