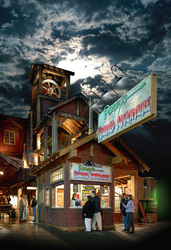 Trick or Treat: 15 Nights of Halloween
Gatlinburg, TN (Vocus) September 30, 2010
Ripley's Haunted Adventure in Gatlinburg is celebrating its 12th annual Fright Nights show this year with "Trick or Treat: 15 Nights of Halloween", a show dedicated to all things Halloween!
"We are very excited about our Fright Nights this year," said Suzanne DeSear, manager. Ripley's Haunted Adventure, best known for its year-round haunting, will become even scarier during this time as the number of performers multiplies and themed surroundings play on your sight, sound, touch, and even smell.
"Due to the fact that there is so much you can do with the Halloween theme, the actors have requested that we change the show up every weekend," said DeSear. "This gives people within driving distance the chance to see five different shows if they choose, but the best part is that we have added a twist to the show one weekend for those that have visited before."
There is no extra charge for the special Fright Nights shows which run every Friday, Saturday, and Sunday in October. Shows commence nightly at 6:13 p.m. with a character parade.
Ripley's Haunted Adventure is a year-round haunted house that was opened in 1999 by Ripley Entertainment on the site of what was once the Grimsby & Streaper Casket Company. The old casket factory was abandoned under mysterious circumstances during the early 1900s shortly after residents started disappearing. Until Ripley's can decide the most beneficial development for the area, they continue to conduct tours of the facility.
Ripley's Haunted Adventure is one of the few haunted houses in the nation that is open 365 days a year. Single admission tickets are $12.99 + tax for ages 12 and up and $7.99 + tax for ages 6-11. Multi-weekend tickets are available at a discount for the month of October only. No one under the age of 6 is allowed due to the graphic nature of the facility, and those under 12 must be accompanied by a guardian.
###