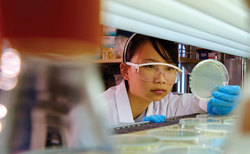 Achieve3000 is excited to be bringing together industry leading differentiated instruction with one of the world's leading providers of science content, National Geographic.
Lakewood, NJ (PRWEB) September 30, 2010
National Geographic School Publishing, a subsidiary of the National Geographic Society, one of the world's largest nonprofit scientific and educational organizations, and Achieve3000, the leader in differentiated instruction, are joining forces to create an innovative, inquiry-based core science program that provides differentiated instruction for grades 6-8.
Launching in 2011, the curriculum focuses on core science content acquisition while seamlessly reinforcing key literacy needs for students in the areas of reading comprehension, vocabulary acquisition, and writing skills. This Web-based solution will utilize text, materials, videos, illustrations, photographs, and other content from National Geographic to supplement and enhance student learning.
"Achieve3000 is excited to be bringing together industry leading differentiated instruction with one of the world's leading providers of science content, National Geographic," says Saki Dodelson, CEO of Achieve 3000. "By bringing together the wealth of content that National Geographic has to offer with our ability to teach each student at his or her specific reading level, we are able to accelerate literacy while building vital science knowledge".
The program promotes collaboration among students, teachers, and parents who will work together to maximize results. Students take an initial placement test, and then gain access to a robust set of differentiated science passages and enrichment activities – including a "push" to National Geographic's rich media resources. This differentiated instruction is targeted to each student's specific reading level. While an entire class receives the same assignments and activities, each student receives the assignment tailored automatically and precisely to his or her reading level.
Teachers plan their lessons online, integrate reading comprehension strategies, and monitor student progress to make data-driven decisions. Parents receive personalized log-in accounts to review the instructional materials, monitor student performance, and support learning with authentic activities at home. Research shows that when parents are involved, students do better in school.
"We are pleased to be working with Achieve 3000 to provide this innovative and engaging program to middle school students and their families," says Alison Wagner, President and CEO, National Geographic School Publishing.
Key features of this unique program include:

An initial reading/Lexile® placement test to assess each student's ability to read and comprehend science texts.
A grade-appropriate science inventory, administered before and after the instructional coursework, to measure student progress.
Daily science passages, sent via secure simulated e-mail, cover key grade-appropriate science concepts, and key vocabulary are tailored to each student's individual reading level.
Standards-based activities aligned to specific science concepts and standards that promote the process of formulating questions, organizing ideas, exploring and evaluating information, analyzing and synthesizing data, and communicating findings and conclusions.
A push to National Geographic's online resources to extend student learning.
Robust reporting tools that allow students to measure their own progress and teachers to review student progress and program usage. Teachers and parents also receive personalized recommendations for extending student learning.
Professional development workshops for teachers and administrators.
The core science program is designed to improve student literacy through a collaborative environment where students can work with lab partners on experiments and reports. Each student has the opportunity to build their knowledge and understanding of science concepts and ideas. Extension activities enrich student learning and reinforce science standards. In combination, students improve literacy and science skills.
Achieve3000 is committed to helping schools produce the forward-thinking scientific minds that will meet the demands of a 21st-century work force. For more information about this exciting partnership with National Geographic and our efforts to promote next-generation science education, please visit Achieve3000.com Differentiated Instruction.
# # #