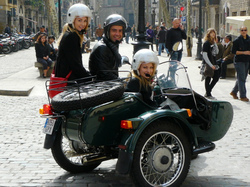 riding a sidecar motorcycle entails a sense of freedom and romance that's hard to beat
New York, NY (PRWEB) September 29, 2010
A beautiful journey at best Mediterranean style is taking place in Barcelona: BrightSide, a ride from yesterday's to tomorrow's Barcelona aboard the sidecar of a classic motorcycle.
Cruising the alleys and avenues of the Catalan capital in a sidecar motorcycle is a thrilling new discovery where every turn exudes authenticity and surprise - very different from a conventional city tour. Driven by an expert private guide, the traveler will find himself wrapped in the genuine sounds, scents and beats of this unforgettable city.
João Silva, the founder of BrightSide, is a former international marketing executive who decided to barter his ties for jeans and make the streets of Barcelona his new office. "My job took me around the world and tourist guides have shown me great attractions, but it was my poor sense of direction that led me to the truly authentic nooks and crannies" confesses Silva with a glint of irony in his smile.
So BrightSide ensures a deep immersion into the true essence of Barcelona's lifestyle and culture. Every journey provides a fine balance between deciphering the great attractions (such as La Sagrada Familia), understanding the course of history and exploring the most authentic side of the city, beyond the conventional touristic trails.
Riding a sidecar motorcycle entails a sense of freedom and romance that's hard to beat, but it also provides unparalleled mobility all around the city and an interactive communication between thee persons. Using high-tech intercommunication devices, the private guide and the passengers cruise the city debating the history, the architecture, the symbols and the lifestyle of Barcelona and its peoples.
BrightSide offers private guided tours on sidecar motorcycles that may last from 1.5 to 8 hours, the tours follow a ready made route but are always tailored to each traveler's specific expectations. Day or night, these vintage styled sidecars are the perfect time travelling machines for such journey across history: from the Roman Empire to the Olympic Barcelona, cruising by the Middle Ages, the industrial revolution, El Modernisme Catalá and the Spanish Civil War.
Further information and reservations available on http://www.ridebrightside.com
Images and video available for reproduction can be found on the following web links:

(click on picture > Actions > View all sizes > Download the Large size of this photo)
For further information, to arrange an interview or a trial tour, please find our contact data on the side tab.
###