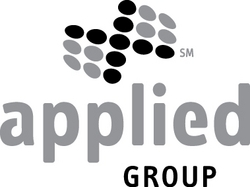 "This seminar is about business, and how business leaders and technologists must come together in a pro-active, collaborative mind-set to solve the real issues impacting organizations on the most grand scale."
Bridgeton, MO (PRWEB) September 29, 2010
The Applied Group (Applied), a St. Louis based technology company, has announced that on November 11, 2010, they will be hosting a business/technology seminar focused on Information Life-Cycle Management.
Information Life-Cycle Management (ILM) is one of the hottest topics for business leaders and technologists today, as it brings together multiple key organizational issues under a single umbrella. These key issues include: the management of data/content growth; the secure distribution of the right information to the right users at the right time; and the receipt, storage, retention, backup and purge of data/content.
"Information Life-Cycle Management (ILM) is a topic that our clients are more and more concerned about," says Don Rogers, VP of Operations & Engineering with the Applied Group. "However, most of the time, they are not referring to ILM by name, but rather a series of issues surrounding how to better manage their growing throngs of information," continues Rogers.
Several definitions of ILM exist. Put simply, ILM is a process for maintaining information at the least possible cost, while concurrently maintaining security and appropriate levels of availability of relevant information for the right audiences.
The Applied Group has combined forces with three of the world's foremost technology visionaries to address this complex topic of ILM. Hitachi Data Systems, Cisco and NetApp have come together with Applied for this special event, which will be held on November 11, 2010, at Cisco's St. Louis headquarters at 16401 Swingley Ridge Road, Chesterfield, Missouri, 63017.
"We are very excited to offer this free seminar on Information Life-Cycle Management," says Keith Fear, Practice Director with Applied. "This seminar is about business, and how business leaders and technologists must come together in a pro-active, collaborative mind-set to solve the real issues impacting organizations on the most grand scale," says Fear.
For details about the Information Life-Cycle Management Seminar, see the Applied website, thinkapplied.com/ilm, or contact Sara Klein at (636) 728-5926.
The Applied Group is a St. Louis, Missouri based technology company which helps enterprise and mid-tier organizations. The Applied Group is the only technology organization in the Mid-West which offers consulting, services and solutions with a "shop floor to top floor" vision. The Applied Group is comprised of Applied Information Systems (AIS) and Applied Technologies (AT). More information about Applied is available via website, thinkapplied.com; phone (636) 728-5990; or email info(at)thinkapplied(dot)com
###