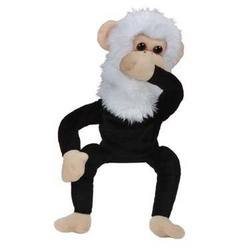 Hawkin's Bazaar is one of only three retailers to have Dave in stock and the only national chain at the moment
(PRWeb UK) September 28, 2010
With most retailers yet to have Dave the Cheeky Monkey in stock, Hawkin's Bazaar, the cult retailer of bizarre and unusual gifts, was the first to have Dave in stock last week and has witnessed incredible sales, leading to the manufacturer needing to set up a third facility in the far east to cope with demand. Described as a 21st century robotic ventriloquist pet, Dave has caught the imagination of children and adults alike!
"Even before Dave arrived last week, we were seeing very high levels of interest for him on our website", says Head of E-Commerce Stephen Rumbelow, "and now that Dave is here, he is flying out of the door, and our website is taking unprecedented orders. This is one of our fastest ever selling toys, and we're one of only three retailers to have Dave in stock and the only national chain at the moment."
Dave the Cheeky Monkey is a remote controlled monkey which sits on the owner's shoulder and makes over 30 different expressions and movements. On combination this can create over 3,000 sequences.
Although Hawkin's Bazaar has some stock at present, the high sales levels mean that Dave may not be around for long.
Hawkin's Bazaar is promoting Dave through a series of social media and viral marketing campaigns, using channels such as Google, Twitter, and Stumble Upon. Dave's website at http://www.davethecheekymonkey.com also sees him giving hilarious life coaching advice from his island home.
Planning, creative, and social media marketing has been handled by MMK Media. Chris Delahunty said, "This campaign typifies everything about Hawkin's Bazaar. Dave is a great character for a unique brand, and the advice he is giving is sure to help people for years to come."
###