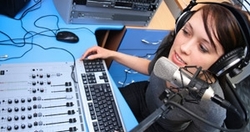 It's an ideal solution for radio programmers that want to utilize X-Digital's family of XDS-PRO receivers but prefer not to invest in headend infrastructure
Raleigh, NC (PRWEB) September 29, 2010
Microspace Communications, an industry leader in providing satellite distribution for private audio and radio networks, has just announced a new service offering. The company will begin providing shared hub services utilizing X-Digital System's popular content management platform.
According to Greg Hurt, VP of Sales and Marketing at Microspace, "The shared hub concept is one we have had great success with in the past. It's an ideal solution for radio programmers that want to utilize X-Digital's family of XDS-PRO receivers but prefer not to invest in headend infrastructure."
Microspace will provide the necessary satellite bandwidth, uplinking and 24/7 support from its world class Raleigh, NC teleport. Customers will have full access to the fully redundant X-Digital Systems content management systems that will also reside at Microspace.
Ian Lerner, President of X Digital Systems says, "Microspace has a proven track record of providing reliable and cost effective satellite broadcasting services. Combining these services with our popular content management solution makes for an extremely strong content distribution solution."
X-Digital systems advance integrated content management platform includes live and stored content distribution and playout, store and forward, regionalized insertions, advance scheduling, program time-shifting and other features that can be fully managed by networks and affiliates through one integrated web based user interface.
About Microspace
Microspace Communications Corporation (Microspace), a subsidiary of Capitol Broadcasting Company, is a leader in satellite services for digital signage, business communications, digital cinema and other applications. The company operates one of the largest global business satellite broadcasting networks with over a quarter of a million remote sites worldwide. Microspace also provides content distribution to over 3000 radio stations for the Christian radio programmers.
About Capitol Broadcasting
Capitol Broadcasting Company, Inc. is a diversified communications company which owns and/or operates WRAL-TV, WRAL Digital, WRAL-FM, WRAL-HD2, 99.9 The Fan, Microspace, CBC New Media Group and Wolfpack Sports Marketing in Raleigh, NC, WJZY-TV and WMYT-TV in Charlotte, NC; WILM-TV in Wilmington, NC; WRAZ-TV and The Durham Bulls in Durham, NC; and real estate interests including the American Tobacco Project and Diamond View office building in Durham, NC.
About X-Digital Systems
X-Digital Systems, Inc. (XDS) designs and manufactures satellite and terrestrial multimedia communication systems. Specializing in advanced systems for wireless and wired applications, X-Digital equipment features patent-pending technology designed to deliver the reliability, flexibility, automation and quality needed for broadcasters worldwide to deliver next-generation digital over public and private networks. X-Digital is a privately held, employee-owned company headquartered in San Diego, Calif. with sales offices in Tokyo, Japan. For more information on the company or its products, please visit X-Digital Systems, Inc. at http://www.xdigital.com
###