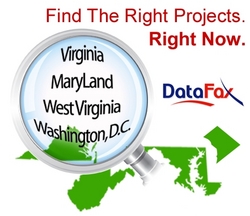 "We are looking forward to delivering high value construction lead data to this prime market" Darren Sylvia, President DataFax.
Richmond, VA (PRWEB) September 29, 2010
DataFax one of the Southeast's most established construction reporting services, announces expansion of its construction lead service into the Mid Atlantic region of Maryland, Virginia, West Virginia, and the District of Columbia. "We're excited about the opportunity we are bringing to commercial construction professionals in the Mid Atlantic region. DataFax has a long and proven history of meeting the need for extremely localized construction information. "We are looking forward to delivering high value construction lead data to this prime market" Darren Sylvia, President DataFax.
DataFax is inviting construction professionals to bid projects with free sample of construction leads when they visit http://www.DataFax.net DataFax is a leading reporting service for construction leads and construction reports. DataFax has been gathering construction leads and bid information for construction professionals since 1991. DataFax helps Owners, Architects, Contractors, Subcontractors, Material Suppliers and many other construction professionals recognize growth in revenue, profits and industry presence. DataFax aims to impact profitability by giving early access to projects in the design and planning stages as well as projects that are currently out to bid.
The DataFax construction lead service will include the following counties in the latest product launch:
Maryland Coverage Area Counties:
Allegany, Carroll, Frederick, Garrett, Washington, Charles, Howard, Montgomery, Prince George's, Anne Arundel, Baltimore, Calvert, Saint Mary's, Baltimore City, Caroline, Cecil, Dorchester, Harford, Kent, Queen Anne's, Somerset, Talbot, Wicomico, Worcester
Virginia Coverage Area Counties:
Staunton, Waynesboro, Winchester, Alleghany, Augusta, Bath, Clarke, Frederick, Highland, Page, Rockbridge, Rockingham, Shenandoah, Warren, Buena Vista, Clifton Forge, Covington, Harrisonburg, Lexington, Arlington, Culpeper, Fairfax, Fauquier, Greene, Loudoun, Madison, Orange, Prince William, Rappahannock, Alexandria, Fairfax, Falls Church, Manassas, Manassas Park, Caroline, Essex, Gloucester, King & Queen, King George, King William, Lancaster, Mathews, Middlesex, Northumberland, Richmond, Spotsylvania, Stafford, Westmoreland, Fredericksburg, Bland, Buchanan, Dickenson, Grayson, Lee, Russell, Scott, Smyth, Tazewell, Washington, Wise, Wythe, Bristol, Norton, Roanoke, Salem, Bedford, Botetourt, Carroll, Craig, Floyd, Franklin, Giles, Henry, Montgomery, Patrick, Pulaski, Roanoke, Bedford, Galax, Martinsville, Radford, South Boston, Albemarle, Amherst, Appomattox, Buckingham, Campbell, Charlotte, Cumberland, Fluvanna, Halifax, Nelson, Pittsylvania, Prince Edward, Charlottesville, Danville, Lynchburg, Richmond City, Amelia, Brunswick, Charles City, Chesterfield, Dinwiddie, Goochland, Hanover, Henrico, Louisa, Lunenburg, Mecklenburg, New Kent, Nottoway, Powhatan, Prince George, Colonial Heights, Hopewell, Petersburg, Southampton, Surry, Sussex, York, Chesapeake City, Emporia, Franklin, Hampton City, Newport News City, Norfolk City, Poquoson, Portsmouth City, Suffolk City, Virginia Beach City, Williamsburg, Accomack, Greensville, Isle Of Wight, James City, Northampton
West Virginia Coverage Area Counties:
Boone, Brooke, Cabell, Calhoun, Clay, Doddridge, Fayette, Gilmer, Hancock, Jackson, Kanawha, Lincoln, Logan, McDowell, Marshall, Mason, Mercer, Mingo, Ohio, Pleasants, Putnam, Raleigh, Ritchie, Roane, Summers, Tyler, Wayne, Wetzel, Wirt, Wood, Wyoming, Barbour, Berkeley, Braxton, Grant, Greenbrier, Hampshire, Hardy, Harrison, Jefferson, Lewis, Marion, Mineral, Monongalia, Monroe, Morgan, Nicholas, Pendleton, Pocahontas, Preston, Randolph, Taylor, Tucker, Upshur, Webster
And Coverage to Washington, D.C.
###