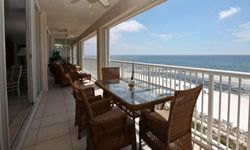 the Luckiest fishing Village in the World
Schenectady, NY (PRWEB) September 29, 2010
Holiday Isle Properties, a premier vacation rental management firm specializing in Destin, Florida properties, offers great deals on luxurious Destin Florida condo rentals for the fall and winter months. With cooler weather settling upon our friends in the North, it's time to consider the most suitable property for your extended stay in Destin. Holiday Isle offers a variety of vacation rental homes and condominiums, perfect for those making the migration. Their Destin vacation rentals Florida for snowbirds are the best in the area. Book your rental today to ensure the best rates.
Destin, Florida is the ideal place for a winter getaway. A temperate climate-secluded from snow emergencies and icy roads-makes this area one of the most popular places to migrate during the colder parts of the year. Sandy white beaches and deep sea fishing will make your stay even more memorable. Holiday Isle Properties offers affordable accommodations for any-sized family. Whether it's a 1-bedroom unit you're looking for, or a 6-bedroom vacation rental that suits your needs, they have the property of your Destin beach vacation rental dreams. Holiday Isle's Snowbird Specials range from $850-$2,400 per month for condos and $2,500-$5000 per month for rental homes. Guests receive $100 each month's rent when they book for more than two months.
The customer always comes first, and with Holiday Isle, your preferences matter. Location is a top priority for most vacationers, and Holiday Isle offers properties with Gulf and Harbor views. Their snowbird rentals feature oceanfront access from many of Destin's popular beaches, and guests also have the opportunity to rent property on the very popular Holiday Isle location, situated between the Gulf of Mexico and the Destin Harbor. All of their Destin vacation condo rentals are unique, so make sure you visit Holiday Isle Properties online to see what suits your needs.
Destin winters have a solid reputation. January and February temperatures run an average high of 62 degrees during the day, and average in the mid-40s at night. With beautiful, clear days, winter visitors can enjoy the easy-going attitude of Northwest Florida residents. While a leisurely walk on the beach is among the most popular pastimes, fishing and golfing are right up there too. Destin's motto is "the Luckiest fishing Village in the World," and the area boasts an array of the finest seafood establishments found in the South. Remember to take advantage of all the specials during the Destin Area Restaurant Week running October 24-30.
Don't waste any more time thinking about the perils of winter. Find your ideal vacation home in Destin, Florida today with Holiday Isle Properties. For more information, call toll free, 800-837-5102.
###