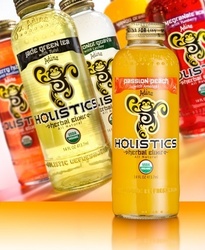 There has clearly been a longstanding void when it comes to healthier food and beverage choices in most of the major U.S airport terminals
San Francisco, CA (Vocus) September 28, 2010
San Francisco-based Adina for Life, Inc., creators of Adina beverages, announced that its flagship line of fruit-infused herbal beverages, Adina Holistics™, are now available at the food pavilions in major U.S. airports. New York's JFK Airport and LaGuardia Airport, Boston's Logan Airport, Chicago's O'Hare Airport, Washington D.C.'s Ronald Regan National Airport, Orlando International Airport and Tucson International Airport, have all answered their travelers' calls for an alternative to the high-fructose corn syrup-laden beverages that proliferate the convenience stores and eateries typically found at most airports.
"There has clearly been a longstanding void when it comes to healthier food and beverage choices in most of the major U.S airport terminals," said Norm Snyder, President and Chief Operating Officer at Adina for Life. "Holistics fills that void, providing a combination of organic, gluten-free, Fair Trade goodness with amazing flavors." Snyder commended OTC Management Group, who oversees the food and beverage operations in the airports where Holistics is available, for its commitment to offering healthy choices to travelers.
Adina Holistics comes in seven great tasting, fruit and herbal infused varieties. Distribution has grown rapidly since its launch in May 2009, and Adina's herbal elixirs are now available in 36 states through national and regional chain retailers such as Target, Whole Foods Markets, Walgreens, Safeway, Wegmans, Shaw's, HyVee, Albertson's, Fry's, Bashas', Dahl's, Marsh, Lunds and Byerly's, Nuggets, Big Y, Market Basket, Dierbergs, Henry's, 7-Eleven, Speedway, QuikTrip, Holiday Station, Casey's, as well as thousands of independent retailers across the country.
About Adina for Life, Inc:
Adina for Life, Inc., is led by a pioneering team of entrepreneurs from Odwalla®, and SoBe®. Inspired by the vision to create a world that "Drinks No Evil," these industry innovators came together to grow Adina and change the way the world does business—one drink at a time. The company is dedicated to producing great-tasting, better-for-you fair trade beverages, using only natural and/or USDA organic, directly sourced ingredients from around the world.
Adina for Life, Inc. has three product lines: Adina Holistics™ Herbal Elixirs, Baristas Brews™ All-Natural Coffee Drinks, and Organic Tribal Blends ™, Coffee Drinks. For more information or to follow Adina Holistics on Twitter, visit http://www.adinaworld.com
###