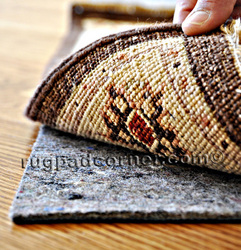 "Every rug pad order, regardless of order amount, now comes with free shipping at Rug Pad Corner"
Bethel, CT (PRWEB) September 30, 2010
Rug Pad Corner, the nation's source of quality rug pads on the Internet, has announced that they have removed shipping charges on all rug pad orders. Until recently, rug pad orders under $25 would incur a nominal shipping charge. The management of Rug Pad Corner has recently decided to eliminate this shipping charge. Now, all rug pad orders are shipped with free shipping, regardless of the amount of the order.
"Most of our orders are over $25 so not many of our customers paid for shipping", states Luis of Rug Pad Corner. "We decided to offer the same service to all orders, small or large, by making each rug pad order come with free shipping." Free shipping means premium UPS or FedEx with tracking numbers supplied in every order.
Two of the main reasons that Rug Pad Corner can allow free shipping on orders is the fact that the company ships thousands of rug pads every year as well as the fact that they have negotiated aggressive shipping rates with their carriers. "When we first started to include shipping with every rug pad order, we decided that we would not raise our prices", comments Luis. "Instead, we negotiated very aggressively with the shipping companies and this has rewarded us by not having to pass any shipping fees to our customers."
Free shipping at some online stores means waiting a week or two for an order to ship. At Rug Pad Corner, the fact that shipping is free does not mean any compromise on service. Orders are usually shipped within 24 hours of receipt and each customer is emailed a tracking number for the their convenience. Orders ship from the east coast and take anywhere from one to five days to be delivered, depending on where the customer lives in the country.
###