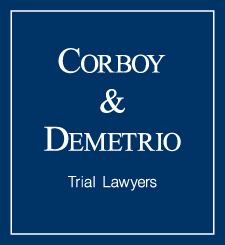 Our client has suffered physically and emotionally for 5 years now
Chicago, IL (Vocus) September 29, 2010
Metra has agreed to pay $1.45 million to a passenger who was injured when a Metra train derailed and crashed. Corboy & Demetrio attorneys Daniel Kotin and William Gibbs represented the injured passenger. In addition to this personal injury case, Corboy & Demetrio represented 35 other victims of the derailment and Kotin is lead counsel for all the injured train passengers who have filed lawsuits.
On September 17, 2005, a young woman was a passenger on a double-decker five car Rock Island Metra train that was traveling from Joliet toward downtown Chicago. At about 8:30 a.m., the train encountered a track crossover with a maximum allowable speed of 10 miles per hour (mph). The train entered the crossover at 69 mph, causing it to violently derail, and crashed into a steel bridge. The woman's right leg was broken, requiring surgery. In the future, she will require knee replacement surgery.
"Our client has suffered physically and emotionally for 5 years now," said Kotin. "With this settlement, she can now afford to have the knee replacement which should ease her pain. The emotional scars caused by witnessing people die around her will never go away."
Kozi O'Donnell v. Northeast Illinois Regional Commuter Railroad Corporation, d/b/a METRA, case number 06 L 3934, pending in the Circuit Court of Cook County, Illinois, was dismissed by Judge Kathy Flanagan.
Few Metra derailment lawsuits remain. Most have been settled, including the only two death cases which were handled by Corboy & Demetrio attorneys. The one case that did go to trial - Bank of America, N.A., et al v. Northeast Illinois Regional Commuter Railroad Corporation, d/b/a METRA, Circuit Court of Cook County, Illinois, case number 05 L 10320 - resulted in a $29.6 million verdict last year. That verdict was paid in full and was obtained by Corboy & Demetrio attorneys Thomas Demetrio, Daniel Kotin and William Gibbs.
To consult with Attorneys Kotin or Gibbs, or any other lawyer at our Chicago personal injury law firm, call 312.346.3191. We are available 24 hours a day, 7 days a week.
Further firm information can be found on the Corboy and Demetrio Findlaw firm profile or the Corboy and Demetrio HG law firm profile.
About Corboy & Demetrio
Corboy & Demetrio is one of the nation's premier law firms. It represents individuals and their families in serious personal injury and wrongful death cases arising out of airplane and railroad disasters, failed products, medical malpractice and a host of other catastrophic events. Corboy and Demetrio is renowned for its achievements in the courtroom and for its contributions to the community. The rights and concerns of its clients are at the core of Corboy & Demetrio's practice. That commitment, dedication, compassion and relentless drive has resulted in exceptional service and exceptional results. The firm has acquired more than $3 billion in settlements and verdicts, of which almost 600 were in excess of $1 million.
###